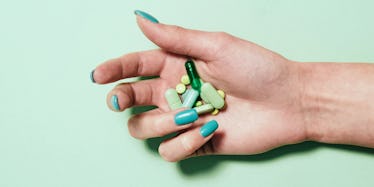 If Anti-Depressants Are Tanking Your Sex Drive, Here's What You Can Do About It
If you've been diagnosed with depression, you may be taking antidepressants to assist you in managing your mental health. One side effect of some antidepressants is a decreased sex drive, according to psychiatrist and co-founder of Neighborhood Psychiatry Grant H. Brenner, MD, FAPA. Whether you're in a monogamous relationship or have multiple sexual partners, you may feel as if your libido has changed due to your medication. If antidepressants are affecting your sex drive, there are ways to cope.
People can sometimes let their fear of side effects hinder them from seeking medication. But your health should be your priority, and getting treated for your depression is of utmost importance. If you do experience side effects, you want to make sure they're manageable and not preventing you from treating your depression.
So if you find that while on antidepressants, your sex drive isn't like it was pre-medication, fret not: there are things you can do to manage.
I spoke with Brenner about what you can do if you find antidepressants are affecting your libido. But if you aren't currently experiencing side effects, take note: Brenner says that 30 to 40 percent of people who take antidepressants will not experience a change in sex drive. Sixty percent of patients report decreased libido or delayed orgasm, and up to 30 percent have more severe difficulties. If you're among that group, read on for suggestions.