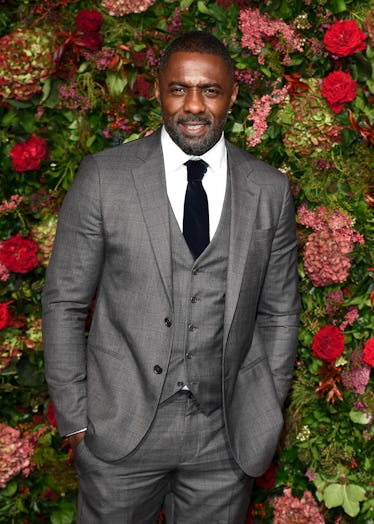 Idris Elba's Dating History Includes 3 Exes You Might Not Know About
Jeff Spicer/Getty Images Entertainment/Getty Images
If you haven't heard by now, the man who was named 2018's Sexiest Man Alive is officially off the market. Sorry fam, but Idris Elba got engaged to 29-year-old model Sabrina Dhowre back in February 2018, after he proposed at a screening of Yardie, a film that he directed. So Hollywood. But Idris Elba's dating history is pretty extensive. Did you know that he has been married twice before? He was hitched to Hanne "Kim" Norgaard from 1999 to 2003, and Sonya Hamlin for less than a year in 2006. But hopefully, the third time will be the charm for this regulation hottie. In the meantime, let's take a look at the list of all the ladies who have been linked to him.
Hanne "Kim" Norgaard
Makeup artist Hanne "Kim" Norgaard was Elba's first wife. The two tied the knot in 1999 and were married for four years, during which time the couple welcomed daughter Isan, who is now 16. They divorced in 2003, but both parents were on stage with Isan at her Sweet 16 party last January.
So sweet. Meanwhile, Isan was recently named 2019 Golden Globe Ambassador, which means she gets to escort all the winners on and off stage during the ceremony. And her dad was the one who got to give her the good news.
"I was just jumping around my room, screaming," she told Essence. "To be [among] so many legends of the film and television industry and also, represent my family is going to be really amazing."
Sonya Hamlin
According to the Daily Mail, Hamlin, a lawyer, was introduced to Elba by a mutual friend in 2006, when the actor was starring on The Wire. They got married on the fly at the Little White Wedding Chapel in Las Vegas in April, and then filed for a divorce just four months later.
"People were telling him he was going to ruin his career," Hamlin explained. "Idris and I were madly in love, but he was getting a lot of flak for being married."
Naiyana Garth
Garth reportedly started dating Elba in 2013. The star even walked the red carpet with his then-pregnant girlfriend at the 71st Annual Golden Globes in January 2014. They dated for close to three years and welcomed son Winston — now 4 — together before calling it quits in February 2016.
K Michelle
Elba reportedly began a relationship with rapper and Love & Hip Hop: Atlanta star K Michelle after the two of them met at the Soul Train Awards in 2013, right after she won Best New Artist. They stayed together for eight months, though their entire relationship was pretty much kept on the down-low.
"He was so charming," Michelle revealed to Essence in August 2018. "He told me he would never be committed to one woman. He said I would be taken care of, I would be fine but he would never commit to one woman." Elite Daily reached out to Elba's team for comment on Michelle's claims, but did not hear back by the time of publication.
Sabrina Dhowre
And that brings us to Dhowre, the 29-year-old model and former Miss Vancouver who recently stole the British actor's heart.
Dhowre and Elba reportedly started dating in secret in March 2017, then got engaged in February 2018. In Elba's Sexiest Man Alive interview with People, he said proposing to Dhowre was the most romantic and nerve-wracking thing he's ever done.
And lucky for us, there's a video of him down on bended knee:
As for what made Elba decide to try the whole wedded bliss thing again — after famously telling Essense in 2017 that marriage "wasn't his life's calling" —  the actor said it comes down to the fact that he and Dhowre understand, respect, and challenge each other.
"She makes me laugh and we share common goals," he explained. "She makes me happy. She makes me celebrate my successes and when I'm not too sure about stuff, she makes me think."
Dhowre shared her own feelings about the engagement on Instagram. "Baby! I can't tell you enough how happy you make me and how lucky I feel to have found a love like this," she wrote. "You make my heart feel so full. I love you. Forever will always feel too short."
Aw, I ship it!