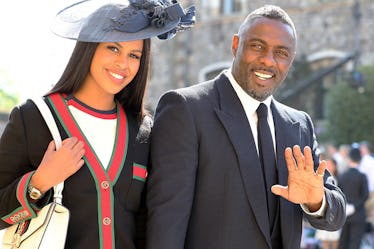 Meet Sabrina Dhowre, The Woman Who Won Idris Elba's Heart
WPA Pool/Getty Images Entertainment/Getty Images
Idris Elba is engaged, for any of you fans still wondering if the Thor actor and 2018's Sexiest Man Alive is available. The man is officially off the market! And his fiancée knows all of your hearts are breaking. So who is Sabrina Dhowre? The model and the actor got engaged at the February screening of a film Elba directed, much to the surprise of the cast and crew in attendance, and of course, Dhowre. But how'd they meet? What's their ~love story~?
Dhowre is a 29-year-old American model. She was crowned Miss Vancouver in 2014 and has been rocking runways ever since. She and Elba reportedly first started dating in secret in March 2017, then fast-forward to February 2018, and wedding bells were in the air and congratulations were in order. The pair is really smitten with each other, as they frequently post photos and videos of each other to their respective Instagram accounts.
They're fairly open about their relationship in public, as well. Elba hasn't been all too shy when it comes to answering questions about his fiancée. In Elba's Sexiest Man Alive interview with People, he said proposing to Dhowre "was the most nerve-wracking thing" he's ever done in his life. Mind you, he's been married twice before and has two children from his past relationships. "In terms of wanting to make someone feel super special and feel my love," he told the outlet, "that was pretty romantic for me."
He had an even more romantic moment planned for the moment he asked Dhowre to marry him, but he scrapped the idea and went with something he felt was more organic. Elba told People he was originally going to pop the question on Valentine's Day, then changed his mind and proposed at a screening of Yardie instead.
"It was a little spontaneous, if I'm honest," he said. "I was at a cast and crew screening and among people I loved. We had all worked so hard for this project so I was like I'm doing it right now, here, today."
Elba also opened up to People about what makes his and Dhowre's relationship work so well. It's all about that good chemistry. "She makes me laugh and we share common goals," he told the outlet. "She makes me happy. She makes me celebrate my successes and when I'm not too sure about stuff, she makes me think."
Dhowre also loves him for making her laugh, as this video she posted on Instagram of Elba in September clearly shows.
She also fawned over his Sexiest Man Alive cover just like the rest of us.
"That's my hubby!!!" Dhowre posted on Instagram. "Yaaaaasssssss 👏🏾👏🏾👏🏾 thanks @people but I already knew ☺️ #chocolateforthewin#lovewakinguptohisface."
One thing fans can be sure of about Elba and Dhowre is that they know how to slay a red carpet.
And royal weddings.
And basically existing in general.
I know the term "couple goals" is thrown around a hell of a lot lately, but like, these two are clearly it. Couple goals defined.