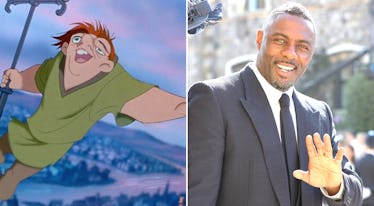 Idris Elba Will Somehow Make Himself Ugly To Star In 'Hunchback Of Notre Dame' Reboot
Disney, Gareth Fuller - WPA Pool/Getty Images
Idris Elba is going to be looking seriously different for his next movie role. Like, totally unrecognizably different. That's because one of the most handsome men in Hollywood is going to get a massive make-under in order to play the deformed outcast Quasimodo. Yep — Idris Elba is starring in a Hunchback of Notre Dame reboot according to Variety, so get ready to see him in a whole new way.
The new Hunchback of Notre Dame movie (which has yet to announce an official title) is being made for Netflix, and Idris Elba is doing a lot more than just starring in the movie. Along with playing the titular hunchback Quasimodo in the film, Elba will also be directing and producing it, as well as using his skills as a DJ and recording artist to produce music for the soundtrack. Although not much is known about the new reboot, we do know that it is being described as a modern retelling of the 19th century classic novel, so fans can expect an updated twist on the story. Think modern-day London or New York instead of Paris in the Middle Ages, when the original story is set.
This is far from the first time that The Hunchback of Notre Dame will have been adapted. Victor Hugo originally wrote the tale of an outcasted hunchback named Quasimodo who falls in love with a kind Gypsy woman named Esmeralda back in 1831, with the primary purpose of highlighting the beauty of Paris' Gothic architecture. Since then, the story has been adapted dozens of times, into a variety of movies, TV shows, and live theatrical performances. Most notably, Disney debuted a child-friendly, animated film entitled The Hunchback of Notre Dame in 1996, which changed the original finale scene to Hugo's tragic tale to give it a happy ending. The movie's success also spawned the 2002 direct-to-video sequel The Hunchback of Notre Dame II.
It is somewhat ironic that Idris Elba will be taking on the famously deformed role of Quasimodo in a new Hunchback of Notre Dame adaptation despite the fact that he is one of the most handsome actors in the movie business right now. Elba's suave and stylish charisma has even spurred years of rumors that he may play James Bond one day, a character that seems to be the exact opposite of Quasimodo. Since Elba's adaptation will be a modern retelling, supposedly changing a few other things about Victor Hugo's original novel, it will be interesting to see how Idris Elba's take on Quasimodo compares to the hunchbacks that came before him.
The untitled Hunchback of Notre Dame Netflix adaptation is the latest in a string of projects that Idris Elba has worked both in front of and behind the camera for. Elba both starred and served as an executive producer in his films Legacy and No Good Deed, and is an associate producer on his BBC crime drama series Luther. He will be making his directorial debut later this year when his film Yardie is released.
The script for Idris Elba's Hunchback of Notre Dame movie is being written by the playwright Michael Mitnick, who wrote 2014's big-screen novel adaptation The Giver and also wrote for the HBO '70s music drama Vinyl.
It is still too early to know when fans can expect Idris Elba's take on The Hunchback of Notre Dame to land on Netflix, but I am sure we will get more details about the project soon. After all, we still need to know who will be playing the updated version of Esmerelda, and also the evil deacon Claude Frollo.