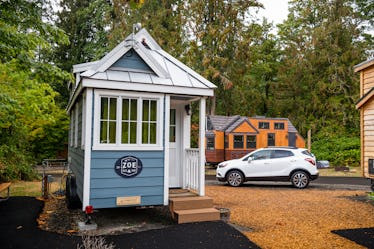 I Went On A Tiny Home Vacation In Oregon & It's The Best Way To See The Mountains
Jessica Walker
If you've ever seen Tiny House Hunters on HGTV, you're probably already aware of the tiny home phenomenon that's sprung up in America. People across the country are trading in their large, energy-absorbing homes for something more low-key, but staying in a tiny home doesn't just offer a financial incentive — it's also become a more affordable way to travel and see the country. Tiny house living is also a great vacation alternative. Getaway homes and tiny house villages are marketed to millennials who are both looking to escape their hectic city living and looking to capture the perfect 'gram. To see what the fuss was about, I went on a tiny home vacation in Oregon — a state I admittedly knew little about, and dove headfirst into mountain living and the tiny-home hype.
In September, I traveled to Welches, Oregon, where I stayed in Mt. Hood's Tiny Mountain Village as part of a tiny home vacation rental from Petite Retreats and Buick. Staying in a tiny home might not be ideal for someone who gets nervous in small spaces, but I found the village to be the perfect retreat at the end of a long day of exploring the hidden gems in Oregon.
Here's everything I got up to while staying in my tiny home.
My Tiny Digs
After Elite Daily worked with more than 40 women to produce Wander or Bust, a millennial travel guide written by women, for women, we discovered Airbnbs or hostels are mostly preferred amongst young people for traveling. Personally, I'm into penny-pinching whenever I go on a vacation because the second I get home, I'm already planning my next one, so I'm always looking for the cheapest lodging option. But that doesn't mean I want to just slum it anywhere. Having affordable housing and being able to feel like you're still living glamorously is the goal for me and so many young travelers, so the tiny house movement has long piqued my interest.
But after I stayed in one this summer off of Salt Spring Island in British Columbia, I thought I had tried and failed to love tiny homes. After booking my first tiny home, I didn't realize until it was too late that the home didn't offer indoor plumbing. I had to use the restroom in an outhouse 50 yards away, which is definitely more taxing than you might think — especially when you're on a vacation, trying to relax.
After that, I vowed to never stay in a tiny home again, but the houses in Tiny House Village were unlike anything I've ever seen before. I stayed in the tiny house dubbed Zoe (pictured above), which boasted a queen size bed upstairs, and a small nook downstairs that housed a twin bed. Much to my excitement, it also featured indoor plumbing, including a full shower, toilet, and sink. It turns out, staying in a tiny home wasn't actually synonymous with sacrificing comfort, which is what I had figured from my previous experience. The Zoe is just $139 per night to rent on the Tiny House Village website, and it places you in the middle of the mountains, where you're surrounded by other tiny homes that make up the Village. When booking, you also have the option to rent out the other tiny homes with your friends (depending on availability) or meet fellow "campers" who are also staying in the Tiny House Village. Bonus tip: No matter what your booking option, make sure to take advantage of the bonfire at the center of the houses, available for use by guests.
Chasing Waterfalls
Before traveling to Oregon, I didn't know much about the state aside from hearing about it through friends who had visited Portland. Turns out, Oregon is home to some of the most beautiful and picturesque waterfalls you've ever seen. Multnomah Falls is the tallest waterfall in Oregon at 620 feet; it features two drop-offs and can be seen miles away when driving by on Interstate 84.
You can spend a full day quite literally chasing waterfalls. There are at least 238 waterfalls in Oregon alone and I visited two of the most gorgeous ones, including Bridal Veil Falls, nearby the Tiny Home Village, which features a beginner-level hike that gifts you with a waterfall at the end of your hike.
Get Spooked At The Top Of Mt. Hood At The House From The Shining
Cruising around winding roads to the top of Mt. Hood is seriously a bucket-list item for anyone who wants heart-stopping, "is this really my life?" views. This was by far the best part of my trip. I took off in my 2018 Buick Encore — provided as part of the trip — and took on the winding mountain roads with the most picturesque views you've ever seen. Having built-in Wi-Fi in the Encore was probably one of the coolest features to have while exploring the mountains, since you never know when your cell service will decide to dip out and leave you stranded. But if you were taking this trip on your own, you would have to independently book a vehicle. Driving up to the peak of Mt. Hood offered some pretty stunning views. I felt like I was in a dream, climbing up the mountain side.
At the top of Mt. Hood rests the Timberline Lodge, a ski resort nestled right at the front of the mountain. Fun fact: the exterior of the Timberline Lodge is featured in Stephen King's 1980 horror classic, The Shining, and if you're lucky, the fog will clear long enough to catch the most beautiful view off of the top of the mountain. Try not to think of all the terrifying moments from The Shining while you're enjoying the views, though.
There was so much to see and do around Welches, Oregon, including tons of farm-to-table restaurants. I enjoyed an amazing farm-to-table meal catered by Larch Provisions at the Bridal Veil Falls Lodge. The caterers also own the nearby Sugarpine Drive-In, which had the most delicious soft serve, with fun toppings like "magic macha powder." A day trip to Portland is just an hour away from the Tiny Home Village, which you can plan yourself if you're looking to get out of the mountains for a day.
For me, staying in the Tiny Home Village revitalized my feelings on tiny homes. There's no need to have to sacrifice amenities — like indoor plumbing and full-size beds — just because you're vacationing in a tiny home. It offered the perfect retreat after a long day of exploring, without all the fuss of actually needing to set up camp. I'd definitely recommend a secluded mountain trip to Oregon, especially if you're looking to get in a last-minute trip before the snow starts. The foliage is colorful, the air is crisp, and the mountains are calling.