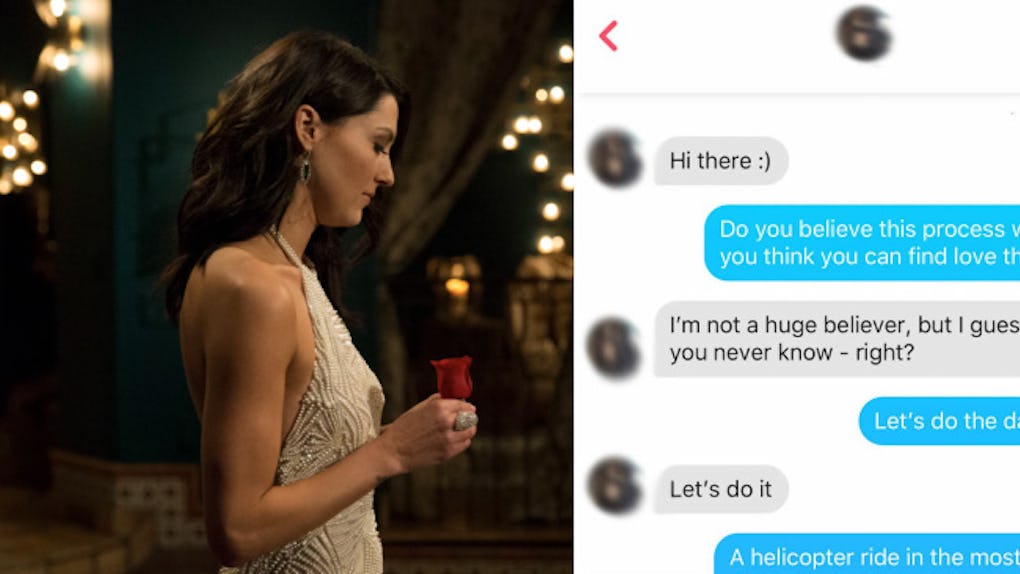 ABC/PAUL HEBERT + TINDER
I Used 'Bachelor' Lines On Tinder & Guess If I Got A Neil Lane Engagement Ring?
This year has been a very transformative year for me. LOL, no. Not at all. I'm still living on a steady diet of hot Cheetos and green juice like I was three years ago. That's just a line from Jake, the first contestant to be sent home from this season's The Bachelorette, but it's good, right? Hopeful. It makes you want to believe in Jake and in true love. It makes you want to yell, "Let's do the damn thing!" on your next first date. I know because, thanks to Jake, I used Bachelor lines on Tinder and my dating life has never been more dramatic.
I mean, I am living for my matches' responses, which ranged from offering me lavish vacations in Italy to straight-up laughing in my face. I laughed, too. In fact, if I'm being totally honest, I laughed, I cried, I laughed until I cried... I felt like a real-life contestant looking for love in Bachelor Nation. Jake, I'm sorry you got sent home, but if you'd like to audition for my season next, have your people call my people.
Sadly, I didn't walk away with a Neil Lane engagement ring. I didn't even get a rose. All I got were these wonderfully weird text conversations to remember my 15 minutes of Tinder fame by.
Match #1
My favorite thing about The Bachelor and all its spin-offs is the one-liners. Like when Megan Bell, a contestant on The Bachelor's 19th season, said ahead of her trip to New Mexico, "I'm so excited. I've never been out of the country before." Some one-liners are funny, some are sassy, and others are downright flirty. That's what I was going for with this opening line to my first match: "I'd like to take you to the fantasy suite." And honestly, I was expecting a more enthusiastic response than, "Okay lol."
My next line was classic Bachelor but also kind of true, since this guy didn't seem to appreciate my opener. To reassure me that we, of course, had a natural and instant connection, he pointed out that we were only four miles away from each other. Um, OK. That sounds a lot more like geography than chemistry but while we're on the subject...
I asked him about his hometown because every Bachelor front-runner has the same cutesy hometown background that makes them impossible to hate. So did he. He grew up in a small town that "actually was rated number one place to raise your children." I fact-checked him because that sounds too good to be true. His town makes the list, yeah, but it's not No. 1. Still, impressive. And did he just mention kids? Sean and Catherine Lowe, we're coming for you!
Bachelor law dictates that I also have a small-town upbringing, which I really do, so I obliged. Now, for my final question. The right answer could earn one lucky guy the chance to grovel at my feet on national television! Are you here for the right reasons? Only then can I give you the final rose. I don't make the rules, Chris Harrison does.
Match #2
I realized by the end of my encounter with my first match that I was about to risk it all before I knew anything about him, which is the entire point of this TV franchise as far as I can tell. It might as well be rebranded as one of those blind-date engagement shows but I digress. I vowed not to make the same mistake with my second match. I asked him right away if he was here for the ~right reasons~.
Once we established that we were both on the same page, it was time for me to have an existential crisis to boost ratings. I hit him with the, "I don't know why I'm here," and I was prepared to follow it up with, "This is so much harder than I thought," when he hurled a plot twist at me.
He'd read my bio, which I forgot to change before starting this experiment. It said, "Mind if I ask you a question for an online article?" Oh, crap! I jumped right TF over his question and asked him a question of my own: "Will you accept this rose?"
He did, then proceeded to plan our first date in blissful ignorance of my true motives. How is this not exactly like an episode of The Bachelor? Anyway, I'd like to eat croissants in a French café overlooking the Seine.
Match #3
This dating multiple people at once thing is exhausting. I was having a hard time telling my men apart, which is why it seems like I started mid-conversation with my third match. Kidding! I knew exactly what I was doing when I messaged this guy, but the producers were (read: I was) bored and wanted to see if I could stir up some drama.
He was about as sweet as grocer Joe from this season's The Bachelorette. Still, I felt like messing with him for no good reason (*cough* Becca *cough*) so I threw another punch.
Turns out, he's a fan of Bachelor Nation and he doesn't even know it.
Match #4
The date cards are here! Hint: Let's play a little one-on-one. This guy was lost from beginning to end, which, admittedly, I quite enjoyed.
When I told him I thought I'd found something real with him, he agreed without question, like any rational person would after two minutes of texting.
Little did he know, it was all a dream fantasy.
Match #5
My fifth match messaged me first, which set him apart from the very beginning. He started off with a simple greeting and I followed up with a vague Bachelor-esque question about believing in the process. The process I was referring to is holing some 20-odd engagement hopefuls up in a mansion and forcing them to compete for one person's Instagram endorsement — oops, I mean love. One person's love. The process he was referring to is, I think, online dating so he's not too far off.
Once he confirmed that he was willing to give it a shot, I told him, "Let's do the damn thing!" But in English, not in French like Jean Blanc on The Bachelorette because I'm not a show-off. Also, I haven't taken a French class in about eight years.
Again, so willing! He was on board with whatever the heck I meant by, "Let's do the damn thing," which meant I had to up the stakes. I proposed a helicopter ride in the most romantic city in the world — totes norms for the first few weeks of dating according to The Bachelor.
Evidently, he and I will be departing shortly for a romantic bird's eye view of Lake Como in northern Italy. He came here to win. "To fight, to conquer, to thrive," in the words of my feminist queen Rihanna. And that he did. Get ready to wish us a "buon viaggio" (that means "good trip" in Italian), losers!
Right about now, the end credits would roll and sneak previews of my season spin-off would air in the background. Except, my future fiancé was still trying to get to know me. Doesn't he know we have to save some of that magic for Good Morning America? I accept the rose. Ciao!