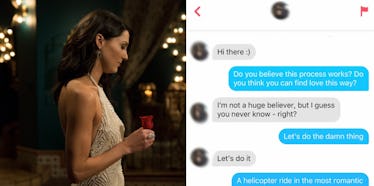 I Used 'Bachelor' Lines On Tinder & Guess If I Got A Neil Lane Engagement Ring?
ABC/PAUL HEBERT + TINDER
This year has been a very transformative year for me. LOL, no. Not at all. I'm still living on a steady diet of hot Cheetos and green juice like I was three years ago. That's just a line from Jake, the first contestant to be sent home from this season's The Bachelorette, but it's good, right? Hopeful. It makes you want to believe in Jake and in true love. It makes you want to yell, "Let's do the damn thing!" on your next first date. I know because, thanks to Jake, I used Bachelor lines on Tinder and my dating life has never been more dramatic.
I mean, I am living for my matches' responses, which ranged from offering me lavish vacations in Italy to straight-up laughing in my face. I laughed, too. In fact, if I'm being totally honest, I laughed, I cried, I laughed until I cried... I felt like a real-life contestant looking for love in Bachelor Nation. Jake, I'm sorry you got sent home, but if you'd like to audition for my season next, have your people call my people.
Sadly, I didn't walk away with a Neil Lane engagement ring. I didn't even get a rose. All I got were these wonderfully weird text conversations to remember my 15 minutes of Tinder fame by.