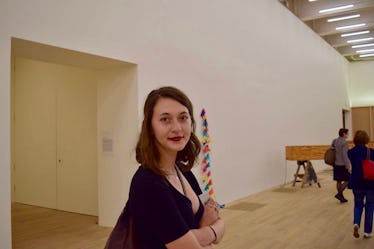 I Tried Sexting For The First Time & Here's What Happened
Khana Tillman
Sexting is a touchy subject. With every whoosh of a text sent, control goes with it. The risk factor can be part of the appeal of sending a risqué sext, but the actual enjoyment of it depends on a sense of trust and understanding. When I tried sexting for the first time after my partner moved across the country I came away from it feeling entirely unenthused. Do I say c*ck? Would I actually like my neck bitten? How do I feel about leather?
That first time, I pulled on a frayed Yosemite t-shirt and sat cross-legged against my headboard, a cup of chamomile tea in one hand and my phone in the other. I began drafting messages. Nothing seemed right about the situation — my phone screen was cracked, my cat was pawing wildly at the door and I was attempting to forcibly crank out graphic prose. This is all absurd, I remember thinking of the over-the-top sexual declarations I was making while bundled in blankets. The sensation could only be described as a very strange kind of writer's block.
I have always loved the written word and valued a clever turn of phrase, but when it came to this kind of context, I found that an appreciation for language did not necessarily translate into a cascade of steamy text messages. At the beginning, what I typed didn't just feel ridiculous. It didn't feel like me at all.
It took a few tries to really settle into my rhythm and find exactly what I liked rather than emulating what I thought was expected of me. Then, slowly but surely, sexting took on an entirely new life in my long-distance relationship. It became a way for me to say exactly what I wanted, what I would like to do and what I thoroughly enjoyed about being intimate with my partner. I reveled in the build up, with every text more graphic than the last. Steamy descriptions and delicious one-liners lit up my phone, and just like that, I started to crave them.
It took some practice and quite a few candid talks with my partner about what I liked to reframe sexting in a way that celebrated my wants and needs rather than regurgitating the language of a tired erotica novel. For anyone that is nervous, racked with stress and trying to fit a mold of sexting set up by other people, here is how I completely revamped my sexting experience.