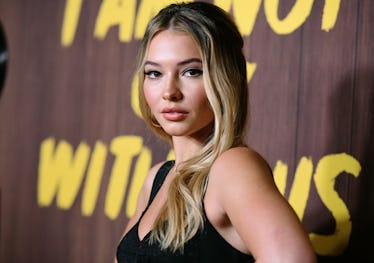 I Tried Madelyn Cline's Skincare Routine For Kook Vibes On A Pogue Budget
Charley Gallay/Getty Images Entertainment/Getty Images
You've been there before: You're scrolling through your Instagram feed when you see your favorite celeb post about their favorite new product — a face serum, vitamins that will make your skin brighter, or a specialty food service. You can't help but want to be like the stars, but are the products worth it? In Elite Daily's I Tried series, we put it all to the test. We're trying those products as well as celebrities' health and wellness tips, recipes, and life hacks. We'll do the leg work and tell you what living like your fave star is really like.
While watching Outer Banks, a few things are immediately clear: JJ must be protected at all costs, becoming a "treasure hunter" is just as cool as it sounds, and, possibly most obviously, Madelyn Cline's glowing complexion is skincare goals. The 22-year-old easily passes for rebellious teenager Sarah Cameron, and for that reason alone, her beauty secrets could be worth $400 million in Royal Merchant gold. Luckily, though, the Netflix star shared her tips with her fans for free, so I tried Madelyn Cline's nighttime skincare routine without breaking my Pogue budget.
In a video tutorial posted by Harper's BAZAAR, Cline says her mother instilled the importance of skincare in her from a young age. But it's not just about looks; Cline also uses her evening routine as a way to wind down. She even makes it a point to put her phone away, so the process feels more like a calming ritual than just an attempt to remove the day's makeup.
Cline may have reached celeb status once Outer Banks hit Netflix, but the actor is still super down-to-earth when it comes to the beauty products she uses. Most of the items in her routine are drugstore finds, and even the two pricey products she admits to splurging on can be substituted with less expensive alternatives. In fact, Cline's whole routine can be replicated with items you have at home, or other budget-friendly products you can buy online. So, once I raided my vanity and donned a headband (my take on the John B. bandana), I worked with what I had to replicate Cline's routine, Pogue-style.