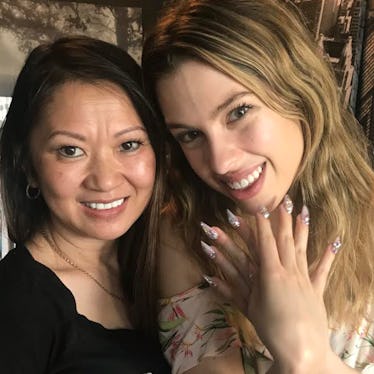 I Got My Nails Done By Cardi B's Manicurist & Now I Feel Like Royalty
Sophie Wirt
One could argue that Cardi B's name is synonymous with a lot of things. Not only did she become one of the biggest names in the rap game seemingly overnight, but also she's a fashion icon and beauty maven — from her hair and makeup looks down to, of course, her consistently blinged-out nails. I decided to join the Belcalis Almanzar train, so I tried Cardi B's nail salon and I've never felt more like a queen.
Tucked away in an unassuming walk-up in the Bronx, Nails on 7th isn't particularly flashy from the facade. But upon entering the salon, I am immediately transported into a glamorous alternate universe. The space is large, dotted with crystals, and adorned with chandeliers. Upbeat Latin music is blasting and people seem to be living their best lives (and getting some seriously amazing manis to prove it).
Cardi's longtime nail artist, Jenny Bui, greets me with a hug. She is smiling and seemingly happy to see me, even though I am, embarrassingly, 20 minutes late (unavoidable transportation glitch!). Jenny beckons me to the back of the salon, behind a door labeled "Jenny's room." Turns out, said room is a VIP suite of sorts, reserved for individual clients. The space itself seems to sparkle, thanks to various crystal-encrusted objects lying around. Of course, there is a nail polish wall. There are also two bottles of Grey Goose, a blown up photo of Jenny and Cardi together, and more bling (so much bling!). I am in awe of all of the sparkly stuff, but perhaps I shouldn't be surprised. After all, Jenny is known as the Queen of Bling — a title she has acquired after creating sparkly masterpieces for a few decades. (I urge you to peep her gorgeous Insta!)
I sit down and tell the master she can create whatever the heck she pleases on my nails. (After all, who am I to dictate what Cardi B's nail guru decides to do to my lowly nails!?) As Jenny began to buff, polish, and perform general magic, I couldn't resist asking her extraneous Cardi-related Qs that she probably hears every.single.day:
"Have you met Offset?"
"Yes! He has been in here with Cardi. He is really nice!"
"How long have you known Cardi?"
"Since she worked at the strip club." And then, unprompted, "[Cardi] is like a daughter to me, and I am like a mother to her."
The almost-familial relationship between Cardi and Jenny renders it unsurprising that the frequent chart topper has stayed fiercely loyal to her manicurist. (If you follow Cardi B on the 'gram, you've probably come across a few posts about Jenny. I knew of Jenny via said posts, and TBH freaked out a little bit when I was given the opportunity to meet her.)
Despite her massive success as Cardi's go-to manicurist (and consequently a major celeb in the nail industry scene and beyond) Jenny is one of the most humble, down to earth people I've met. And she's hilarious! Honestly, I could write an entirely separate article on the woman herself... but I digress. For now, I'll stick to sharing deets on manicure itself — because that's what y'all came here to see, isn't it?
Simply put, Jenny's was the most intense and involved manicure I'd ever experienced. Prior to it, the most experimental I'd gotten with my nails was minimalistic nail art using gel formulas. I had never tried acrylics; my nails have always been relatively long, so I assumed they wouldn't add much. But Jenny showed me that my nails could look so much fiercer.
First, she glued some super-long tips onto the free edges of my nails. Next, she filed each nail into a veeerrry sexy stiletto shape — i.e. the official name for a the pointiest of nail styles. Then, she dipped my nails in a millennial pink powder, which served as the base color.
Next, Jenny used LeChat Perfect Match polish in Royal Tea and LeChat Perfect Match polish in Selene Cream to paint some gorgeous freehand (!) designs on my tips. (Video above!)
Then came the fun part: a signature touch of bling. Jenny whipped out a tray of sparkling Swarovski crystals ("these are the most expensive ones!") and began applying them to my nails one by one(...by one...by one...)
"I have to have a lot of patience" she said. And patience she did have: the entire mani took just over two hours to complete(!). In the end, my talons were encrusted with crystals of various shapes and sizes.
After Jenny finished her masterpiece, I literally could not stop looking down at my fingertips. My nails shone so brightly, that when I put them in the sunlight, I literally had to — no joke — squint to look at them. (The solar eclipse has nothing on these bright babies!) Not to brag, but in the week following my mani, I could hardly leave the house without receiving awe-struck compliments from friends, cashiers, and strangers.
Luckily, these babies will last about a month and they're virtually indestructible, even on the clumsiest of hands (trust me, I run into things on the reg).
Here's to another few weeks of feeling like royalty.