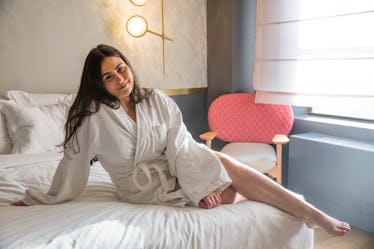 I Took The Ultimate Single Girl's Self-Care Staycation & This Is What Happened
Sarah Schecker
When I was given the chance to take a staycation at a hotel in New York before my sister's graduation week, I jumped at the opportunity. First, because I'm not-so-secretly a huge fan of being bougie as hell, and second, the rest of the week was sure to include constant family time and being on-the-go, so a little TLC beforehand seemed ideal. I'm also a mega-introvert, so taking a night to chill out before spending tons of time with people for four days straight seemed like a sweet deal.
Since I went to college in the city, I've rarely stayed in hotels here. But hotels are a huge component to the more glamorous parts of New York. I feel infinitely classier and fancier than I actually am when I visit The Plaza for drinks, chill at the Hotel Indigo's rooftop bar Mr. Purple, and eat ridiculously delicious brunch at the Parker New York's iconic restaurant Norma's. This sort of luxury wasn't something I indulged in on the regular as a student while maintaining good grades, competitive internships, and being active in a sorority. But now, as a single "adult" (still sounds fake to me), I realize taking the time to prioritize myself every once in a while is critical to maintaining productiveness with work, and just feeling OK mentally. And treating myself to a night in a hotel is not something I or anyone needs a significant other for: you can enjoy these things solo, too.
I've only stayed at hotels with my family, ex-boyfriend, and friends before. Never have I walked up to the check-in desk, claiming a room just for me. I feel like in general, I'm pretty OK with being independent. I enjoy going to movies, eating food, and doing pretty much any activity alone, so checking in a hotel single and without a partner was fine, too.
I arrived at The Time New York hotel in Midtown on a Monday night after work. I checked in and went up to my bedroom on the 12th floor. Blackout shades adorned the windows, which would definitely be beneficial to someone who needs a pitch-black night's sleep. A huge circular mirror faced the bed, which if you pressed power on the remote control, also turned into a television.
Because I sometimes want to live like an #influencer post-Bachelor stint, I figured now was my chance to rock that "oh, I'm just lounging in bed wearing a robe, eating some fruit off a tray" picture. I had my photographer friend Sarah Schecker take photos. I wanted to indulge to the max, and that meant getting my picture taken by a professional.
Except, it was nearly 6 p.m., I wasn't eating breakfast, and the robe was definitely meant for someone six dress sizes smaller than me. It barely wrapped around my body. I'm a size six, people! Please have bigger robes. Anyway, clearly I'm not meant for that influencer life, but I do like this picture regardless.
After our photo session, I quickly changed into a black long-sleeved mini-dress and black heeled sandals to attend the hotel's Drag Queen Bingo on the second floor, which happens twice a month in the LeGrande Lounge. I've never been to a drag show before – which I know docks points from me as a queer person who has lived in New York for, like, five years – so I was super excited to go to the event. I also just love bingo in general, which I'm pretty sure is only yet another serious indication I'm a 90-year-old stuck in a 20-something body. It was hosted by queens Brita Filter and Jannifer Sport, and they rocked it. I grabbed a "Queer Royal" (a champagne cocktail) to sip on while I waited for bingo to begin.
After three rounds of bingo, I checked my phone and realized I was over 20 minutes late for the dinner reservation in the hotel. Time flies when you're watching queens do their thing. I snuck out of the lounge after Filter's last performance so as not to interrupt, and went down to the first floor to eat at New York Italian chain Serafina.
After enjoying a trio plate of pasta and a glass of white wine, I made my way back up to the room to make use of the mirror television hanging in front of the bed. Part two of the Vanderpump Rules reunion show was on, and that was something I could not miss. While that was playing, I changed into pajamas, took off my makeup, and did my nightly skin care routine (including my absolute favorite Drunk Elephant T.L.C. Framboos Glycolic Night Serum, I'm obsessed). Soon after, a wave of tiredness hit me, so I powered the television off, and went to sleep.
When I woke up, I checked out, grabbed a bagel on my way to work, and took the subway downtown. I realized that for future travel, it will for sure be a priority of mine that wherever I stay includes some form of entertainment. I do think if I didn't attend the bingo event, I could have gotten a little bored from just sitting around. But it was a great decision to have some indulgent relaxing time for a busy and long week I had ahead of me. No matter your relationship status, sometimes you just need to take a step back from everything you have going on and treat yourself.