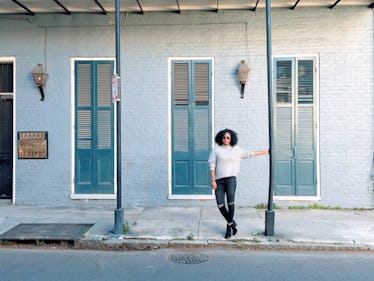 I Took A Spontaneous Solo Trip To New Orleans & It Was Exactly What My Soul Needed
I took a solo trip to New Orleans, and it was love at first sight. I travel by myself often, but there are come places that I'd rather not experience alone. (A romantic destination could feel a little lonely when you're traveling solo, you know?) Needless to say, it can be difficult to find the right destination that has a lot to offer to all types of travelers. If there's one place I would recommend to someone who's traveling solo, though, it would definitely be New Orleans. I took a spontaneous solo trip to New Orleans for the weekend, and it was exactly what my soul needed.
Solo travel has been the best gift I've given to myself within the past few years. When I first start traveling alone, I was worried about getting bored or feeling lonely. I was nervous about making new friends, finding things to do, and eating in restaurants alone. These days, things have changed, and I've learned to truly enjoy my own company.
As a solo traveler, some destinations just work better than others. It helps to find a destination that has plenty to discover, and New Orleans certainly ticked that box. I found myself falling in love with this city — especially the food — by the moment. I'd return in a heartbeat, and I think it should be at the top of your travel bucket list, whether you have someone by your side or not.