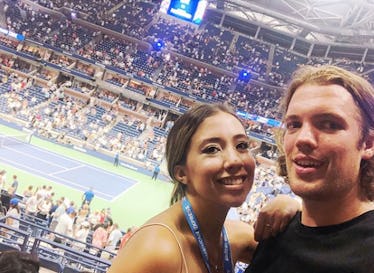 My Boyfriend & I Took A Break, & It Made Our Relationship Even Stronger
When one of my closest friends was updating me on the whereabouts of people I hadn't seen in ages, I began to sense that something was wrong with the way I was spending my time. I saw my boyfriend all the time — being in a relationship means you sort of have a built-in friend who's always at your disposal — but I hadn't seen some of my closest friends in weeks. I needed to take a break from my boyfriend, even though I loved him.
The realization was jarring: If I needed a break from him, did that mean our love wasn't as strong as I thought it was? Were we on the fast track to breaking up? I was terrified of what this decision would mean for my relationship. But I knew what I needed out of the break: I wanted to get back into a routine with some friends I had forgotten in the excitement of being in love. I hoped that by taking a break from my S.O. and not the relationship, I'd be able to regain some clarity on how I was truly meant to spend my time.
To start, my boyfriend and I set some ground rules: We'd check in with each other nightly on the phone, but we'd avoid seeing each other for a whole week. During that period, our time would be spent catching up with old friends, doing projects alone we'd been meaning to do, and getting in touch with those people we seemed to have forgotten. Being clear with each other up front that we didn't want to break up helped me feel more confident about the whole endeavor. I'd recommend having this conversation first to get on the same page. If you or your partner goes into this break unsure of what you want when it's over, that's OK — but you should be clear about it from the beginning. Here's how we took a successful break and came back to each other stronger than ever.