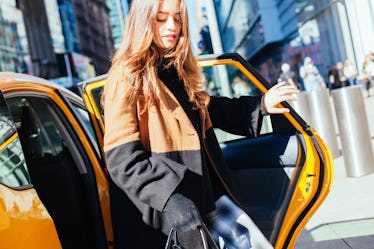 Just Because I Make Last-Minute Date Plans Doesn't Mean I Don't Care About You
I've spent much of the last year flying by the seat of my pants — spontaneously jetting off on weekend trips; sitting in my university library and cramming for exams until the wee hours of the morning (grad school: It's like college, but more!); struggling to balance work, school, and any semblance of a social life while also remembering to do things like eat food, pay my rent on time, and shower. If and when I squeeze meeting new guys into that equation, I always, always, always make date plans at the last minute. But I promise, gents, it's not because I'm not interested. It's just that... I'm really tired, and date-planning can be tricky when you're running on nothing more than a bag of potato chips and three large iced coffees.
Looking back on all of my dates this year, I've left the planning for every single one in the guy's hands. I often fail to respond to their suggestions for days at a time and wait until, like, the morning of our date to confirm. Because I am the worst.
But the funny thing is that I think it actually makes me more appealing to said dates? I seem illusive and mysterious, like a fancy butterfly they just can't catch. (Then they meet me IRL and think, "Whoa, who knew butterflies had such crazy eyes?! Think I'll let this one fly." Then I flee the scene, grab a Happy Meal at McDonald's, and pat myself on the back for eating a balanced meal. Adulthood, amirite?)
But that aforementioned air of illusion is just a side-effect of my hectic schedule — it's not something I do on purpose to attract attention. My poor planning skills don't mean I'm trying to play hard to get, nor does it mean that I'm uninterested in my dates. And if you're stressing because your adorable recent Tinder match still hasn't nailed down your plans for next week, they're probably not playing games, either.
Here are three potential (and not at all sinister) reasons why they're putting date-planning off until the very last minute — as told by the girl who does this all the freaking time.