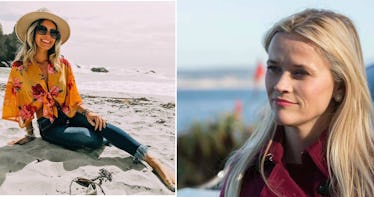 I Lived Like I Was On 'Big Little Lies' For A Week Because I Can't Wait For Season 2
Alexa Mellardo/HBO
Who wouldn't want to be best friends with Madeline Mackenzie from Big Little Lies? She's witty, hilarious, and isn't afraid to call out the BS when she sees it. (Not to mention, it would be a privilege to raid her chic closet on the reg.) Any true fan of the popular HBO series would love more than anything to walk in her footsteps (Or, shall I say, emerald green pumps) in real life, if only for a little bit. I lived like I was on Big Little Lies for four days, and it's safe to say I fell deeply in love (His name is Big Sur.), sipped a lot of merlot at sunset, and was ready to become a Monterey local by the end of my trip.
The majority of the scenes in Big Little Lies season one were shot in the picturesque coastal city of Monterey, California. From the seaside cliffs and white sand, to the rolling hills that seem to fade off into the Pacific Ocean, experiencing the beauty of this place in person is mesmerizing — and it's clear as to why it was chosen as the backdrop for the series.
During my trip, I was able to get a taste of Madeline's on-screen life (while dressing the part, of course) and check out some of the filming destinations. Here are a few of the highlights of my Big Little Lies-inspired road trip, so you can plan one of your own.