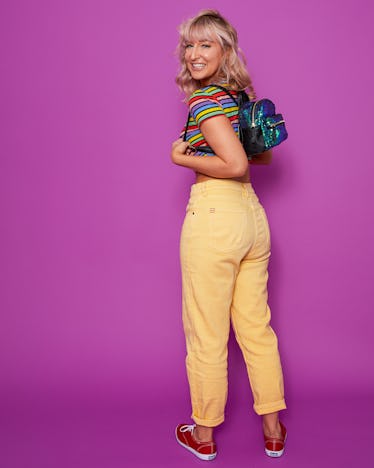 I Started Dressing Like A '90s Kid Again & It Totally Changed The Way I See Myself
Ashley Batz/Elite Daily
It's unusual for a fashion editor to confess that they don't really care about designer clothing. Well, oops, but in the traditional sense of high fashion, let's just call me ambivalent. It may have something to do with the fact that over the course of the last nine months, I've started dressing like a '90s kid all over again, and not in the plaid-hungry, angsty-teenage way. No, instead I find myself rolling my fashion sense all the way back to the sunny days of Recess.
My style reversion began with Instagram, because I'm an especially original millennial. Specifically, it started with the account of the guy I was dating last February, on which I found approximately 1,000 photos of scantily clad women wearing drawn-on jorts. When I calculated the sheer number of his thirst trap subscriptions, I was alarmed, sure, but more than anything, it lead me to some probing personal questions:
Do I need to show off every part of my body at once to be seen as sexy? To be seen at all?
At 28 years old, I have already spent years of my life dressing for male attention — with just the right amount of cleavage. I've sang that song and danced that dance, and when I mulled it over, I confirmed that not only do I not want to win the sexy Olympics; I don't even want to participate.
That epiphany didn't satisfy me, though, because I've also spent years dressing to impress women. My first job out of college was as an assistant at InStyle magazine, and I revered the fashion industry for how it made me feel powerful. I spent too much money on bags that served as armor, a method of defensively broadcasting my success in case I ran into anyone from high school. I was preppy-young-professional Alana in Kate Spade, then chic-minimalist Alana clad in Vince. I've copied the elegant styles of my bosses and impossibly trendy strangers alike. And frankly, I am tired.
I starting thinking about how I present myself, not only to the world and to others — but to me. How did I dress myself before any of this noise existed? What's my style when I've got nothing to prove?
In search of an answer, I dumped the guy I was dating (no-brainer) and decided to go back to school —Billy Madison-style. I went back to where it all began, when I first starting cobbling outfits together on my own in 1995. And let me tell you, it feels even better the second time around, because you don't have to ask your parents for permission.
The first stop on my own Magic School Bus? Taking style cues from my inner child, a cliche-loving lil' creeper still obsessed with the color pink, Disney movies, and wearable fruit.
Accordingly, my inner child immediately asked for (alright, rolled around on the floor and demanded) pink hair. I remember sitting down in the chair of my colorist, Stephanie Brown, and not feeling nervous, despite the women around who kept calling me "brave" (isn't that what they called Amy Schumer when she posed in underwear?). I mean, what was the worst that could happen? As soon as my hair dried, I knew I loved it.
People comment on my hair all the time now, sometimes even after five days of not washing it, from the chefs at SweetGreen, to strangers on the street, to random guys on Bumble. Yes, the recognition is lovely, but I maintain it just for me; when I'm upset and seeing red, I look in the mirror and instead, see pink.
Mini Skater Dress $15, ASOS | Ban.Do Picnic Cooler Watermelon Bag, $21, ASOS | Ankle Socks, $5, Forever 21 | Triple Kick Metallic Suede, $75, Keds
With cotton candy for hair, the summer was a brigade of sundresses and every pastel flower and juicy fruit print in the book. When I felt compelled to sport a lime green outfit head-to-toe on a first date, I just did it. My date became a Kindergartener thrust back into 1995 by proxy, because "All green," was the first thing he said awkwardly when he saw me.
Striped Top, $16, Forever 21 | Vintage Guess Jeans, Prices Vary, Etsy | ZAZ Zac Posen Floral Applique Eartha Iconic Saddle Bag, $180, Shopbop | Champion Originals, $40, Keds
Despite that cumbersome exchange, it still took me a minute to consciously recognize I was dressing like I did in 1995. It wasn't until one night out with my friends, outwardly-normal 20-somethings (but don't let that fool you) cloaked in all-black and booties, that it clicked.
In the above outfit, I stuck out like the tongue of a incorrigible child, and they all laughed at me. From then on, I knew I was Kindergarten Chic, and I was happy.
Motel Tabby Top, $21, Revolve | BDG Cropped Pant, $59, Urban Outfitters | Sequin Mermaid Backpack, $38, OMG Accessories | Champion Originals, $40, Keds
In August, I took a field trip to Europe. I wore this Dora the Explorer get-up to England and France, and I felt so drippily happy. When I wasn't wearing a sparkly backpack, I still kept things hands-free, worry-free with a pastel pink fanny pack.
"Your new name is Banana Pants," concluded an Adam Scott lookalike in Paris, while a South Londoner confessed it was his "dream outfit." No one told me they liked my fanny, which is actually good because that means something different over there.
City Streets Crushed Velvet Baseball Cap, $9, JCPenny | Project Runway Bomber Jacket, $34, JCPenny | Amalia Woven Gingham Skater Skirt, $9, Boohoo | Junk Food Mickey Tee $46, Amazon | Suede Classic Ballet Flats, $20, Old Navy
When I got back to New York City, I expected a measurable drop off in my dating life due to my utter unsophistication and the ready availability of sharp dressers. That didn't really happen, though. I went out on just as many dates as I always have.
I decided to ask an objective male source — my guy friend — for his two cents on my new look. "You look like you're always comfortable," he said, really hitting the nail on the head.
Rachel Roy Feminine Stripe Pullover, $24, Ebay | Rachel Roy Stripe Skirt, $35, Rachel Roy | Champion Originals, $40, Keds
At work, my boss made fun of me for shopping the Juniors department at Macy's, which is laughable because that place is heaven on Earth. Knowing she would love this matching two-piece set, I tricked her into complimenting an outfit from that very section. How's that for a comeuppance, Leticia?
Disregarding the lady on the subway who thought I was a 19-year-old actress, none of the other women in my life have pointed out my style retrograde. When probed, my best friend said my aesthetic can only be described in music, specifically "She's A Rainbow" by the Rolling Stones. I know; I've got a fantastic best friend.
Bardot Maxi, $198, Flynne Skye | Heathered Knit Crop Top, $7, Forever 21 | Bear Bag, $365, Charlotte Simone
In fact, the only disturbing part of this whole process has been realizing that I'm still not original. Kindergarten dressing is a phenomenon larger than me, reaching as far as My Little Pony t-shirts on runways. Women of all ages are indulging in glitter shoes, crop tops, and Limited Too designs. Amber Farr founded the wildly popular brand Flynn Skye (that's her dreamy, Little House on the Prairie-esque dress above) because she wanted to dress like her daughter.
Even celebrities, who can afford to look any and every way they please, are getting on the jungle gym. Just a few weeks ago, Rita Ora sported this beary same backpack. It's becoming wildly popular and acceptable to express yourself out of staunchly-defined societal tropes, and just have fun with your appearance.
Ribbed Chenile Sweater, $20, Forever 21 | Magnolia Overalls, $89, Rebecca Minkoff | Argyle Sock, $12, Happy Socks | Good Vibes Patches Hat, $10, Ebay | Triple Kick Metallic Suede, $75, Keds
Some critique the throwback clothing trend as a form of immature escapism during a contentious time. To that end, of course. The literal translational of Kindergarten, a German word, is "children's garden," which sounds much more exciting than the garbage real world of 2017.
But that's where I disagree. I can be impassioned, engaged, firmly planted on terra firma, and still not be ashamed to have traditionally youthful or feminine tastes. I shouldn't have to be a slick, glossy Woman of Elegance to be taken seriously in my life — especially when the person in the highest office in the country isn't held to that same standard. I can kick ass and take names in a fluffy blue parka and an Angel tee.
Dressing like I did in 1995 has taught me that don't need to hyper-sexualize myself for the benefit of men. I don't even feel like I "need" to look good to impress other women. I remember a moment around age 12 when things suddenly turned, and looking pretty, cool, and sexy suddenly mattered more than my outlandish personality. I've thought about that moment a lot recently. Only now, at the age of 28, I reject that sexier-than-thou persona young women are taught to align themselves with so firmly. I can no longer stand tight clothing, as I found out the other day when I tried on skinny jeans and it was like HA no, not today.
After this experiment, I could probably don a garbage bag and feel perfectly content, valid, and enough in who I am. But dressing like a '90s kid is totally more fun.
Styling: Alana Peden and Alison Turka; Makeup: Alana Peden
Elite Daily Team: Senior Editor, Fashion & Beauty: Alana Peden; Photographer: Ashley Batz; Junior Art Director: Brit Phillips