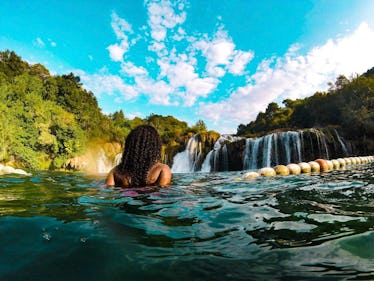 I Didn't Talk To My SO On Vacation & It Was Better For Our Relationship Than I Expected
I've traveled alone for the past few years, and learned so much along the way. I've taken four-day treks through the Sacred Valley of the Incas in Peru, and enjoyed fresh baguettes under the Eiffel Tower in Paris. I've been able to see more landscapes than I ever imagined and have unforgettable experiences without waiting for another person to join in on the adventure. After meeting someone and getting into a relationship, though, I worried that my travels would negatively affect what we had. To my surprise, that couldn't be further from the truth. I learned this because I didn't talk to my significant other on vacation, and it was better for our relationship than I thought.
I always dreamed of traveling the world with the love of my life, but it hasn't always been possible with our conflicting schedules. I didn't necessarily want to sacrifice my vacation, but I was unsure if this would ruin the amazing thing we had going.
When I planned a trip to Costa Rica, I initially planned on keeping in constant contact with him. I wanted him to feel comfortable and admittedly, I'd grown to love his presence — whether in person or on the phone. I quickly reconsidered once I realized that maintaining my independence on this trip would be good for myself and my relationship. It turns out, I was totally right.