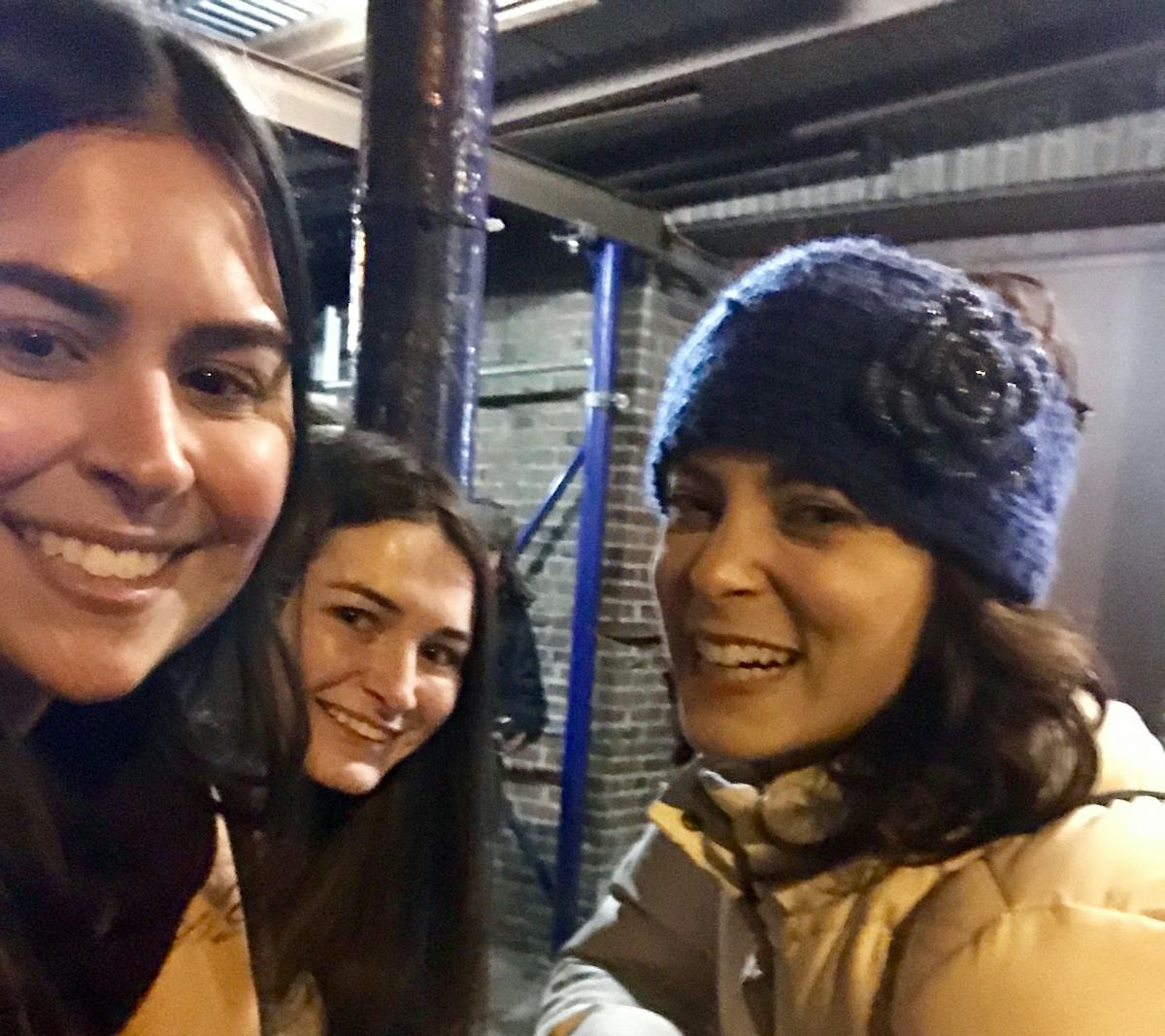 I Did Galentine's Day With My BFF & Wound Up Becoming Friends With Rachel Bloom
Elana Rubin
I've never done anything special on Feb. 13, also known as "Galentine's Day," other than send the appropriate Parks and Recreation memes to my fave ladies. But this year, when I found out that co-creators of Crazy Ex-Girlfriend Rachel Bloom (also star of the show) and Aline Brosh McKenna (screenwriter of The Devil Wears Prada and 27 Dresses) were taking their talents to the 92nd Street Y in New York City on Galentine's Day, I knew my best friend and I had to go. So this year, I did Galentine's Day.
Alana Robbins and I have been friends for almost 10 years. We befriended each other in homeroom when I was a new student in ninth grade – I had just moved from South Florida to Philadelphia, and our names were eerily similar. We bonded over our mutual love for the Disney Channel. Because of Alana, I met the Jonas Brothers in August 2009 – which I'm pretty sure means I owe her my life.
(Alana is between Kevin and Nick. I am between Nick and Joe. I really liked this dress and belt I bought from Urban Outfitters. I wished Kevin Jonas congratulations on his engagement.)
As we've grown older, and moved to various different places, one thing that has stayed the same is our shared appreciation for television. From Hannah Montana and Glee to Crazy Ex-Girlfriend and Dancing with the Stars, we're never more than a FaceTime away to discussing our shows.
So when I got an e-mail from 92nd Street Y that the co-creators of a show that brings many things we love on screen into one place (musicals, comedy, romance, Judaism) would be coming to the Upper East Side, we both immediately checked our calendars to make it work. We bought tickets to the show and began counting down the days.
Alana took the train in from Philly yesterday, arriving at Penn Station around 5 p.m. I suggested we grab a bite to eat at The Pennsy Food Hall next door. While we were eating and catching up, I happened to receive a text from someone who ghosted me a few days ago, now rejecting me. I jokingly responded to him, "Oh are we not doing something for Valentine's Day tomorrow?" because I'm a Scorpio and whatever. He took it seriously and my eyes are in a permanent rotation of rolling.
Alana and I continued to gossip for a little bit, and I recommended we get some dessert before the show. There's a Magnolia Bakery in Penn Station, so we headed out of the food hall and went underground to find it. Because Alana doesn't live in New York and my navigation is legitimately awful, we asked two police men where the bakery was. I kid you not, they pointed right behind us. I got the holy grail banana pudding, and Alana picked up two cupcakes (one for then, one for her train back to Philly after the show.)
We hopped in an Uber after purchasing our sweets, and 20 minutes later or so, arrived at 92nd Street Y. The driver politely called after us after we exited the car, as I accidentally left Alana's gloves in there. Whoops.
We took our seats, and before the talk began, we watched an exclusive teaser for the Crazy Ex-Girlfriend season finale. Samantha Highfill, a writer from Entertainment Weekly, moderated the talk. She introduced Bloom and Brosh McKenna, who did their own rendition of the show's "JAP Rap." There was an issue with the backtrack, so the two stopped it and asked the audience to snap. Bloom said she'd kill us if we sped up. I laughed really loudly.
The talk lasted an hour-and-a-half, with Bloom and Brosh McKenna discussing the creative process behind the show, and their own paths to where they are now. Each one praised the other repeatedly. Bloom told a story in which a friend volunteered to translate "Seasons of Love" in Klingon. I whispered to Alana asking what Klingon was, after Bloom compared the language to Yiddish. Clearly, I don't know my Star Trek.
After the talk, Alana and I looped around the block to see if we could meet Bloom and Brosh McKenna. We stood behind a barricade, waiting with a group of other fans. Bloom and Brosh McKenna came out, and everyone was instantly excited – but still chill and respectful. Bloom told us she enjoyed meeting everyone last time she was at the 92nd Street Y in November 2017, talking for three hours with fans after the show. She said her husband was sick tonight, so she said she needed to rush out. Despite that, Bloom still took a photo with every single person that wanted one, talking to every fan that waited for her.
Right as Bloom was approaching us, I felt my heart start to beat super fast. It was the same rush I had when I met the Jonas Brothers with Alana, nine years ago. Maybe it was adrenaline, maybe it was nerves.
When Bloom got to us, Alana told her she's using Crazy Ex-Girlfriend as a focus in a project for her TV Studies class. I asked Bloom if her husband went to Camp Ramah, a Jewish sleepaway camp (knowing he did), and she said yes. I told her I did, too! Then I told her I went to high school with Ilana Peña (a lot of -lana's, I'm aware) from her writing team. She said we should take a picture. I screamed inside.
Left: Waiting for Rachel Bloom. Right: With Rachel Bloom.
After we met the boss ladies, Alana got an Uber to head back to Penn Station, and I took the subway back home. I was smiling the whole way back, texting my family the details of the night. A pretty successful Galentine's Day, I'd say. No dates required.
Check out the entire Gen Why series and other videos on Facebook and the Bustle app across Apple TV, Roku, and Amazon Fire TV.
Check out the "Best of Elite Daily" stream in the Bustle App for more stories just like this!