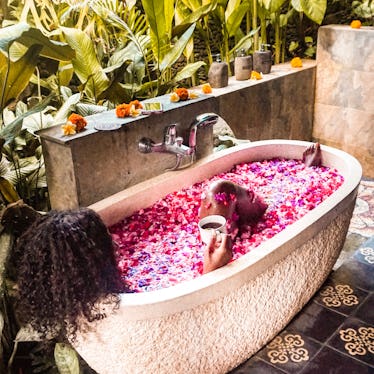 I Bathed In The Flower Bath Everyone's Obsessed With On Insta & Feel Like A New Woman
After visiting Bali, I can totally see why it's the ultimate vacation spot. The landscapes are incredible, the weather is impeccable, and the people are so warm. It's also picture-perfect in every way. If you have Instagram, there's a high chance you've stumbled upon photos of Bali within the past year or so. It seems like every travel blogger and influencer has been there. You've probably seen photos of the rice fields, villas, and infamous flower baths. Well, I recently visited Bali and had the chance to experience it all for myself. I bathed in the flower bath everyone's obsessed with on Instagram, and I feel like a brand new woman.
Bali is the perfect destination for anyone who's in need of rejuvenating spa treatment. There are a variety of spas across the island, and many of them offer a flower bath where you can soak in rose petals. You'll spend around thirty minutes relaxing in a tub full of oils, herbs, and petals from around the island. As a full-time traveler, I'm always moving around, so I knew that this was something that my body and mind would thank me for. Let's be real: I'd fly back to Bali and do it all over again in a heartbeat. Here's what happened.