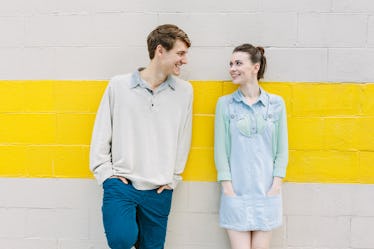 I Asked All My Tinder Matches For Their Best Dating Tips & They Actually Gave Great Advice
It's funny. I spend half of my waking hours crafting sexts for strangers, dishing out dating advice to friends (and asking for their tips in exchange), or chatting with relationship experts about how best to overcome the hurdles of modern dating. But you know whose counsel I rarely seek? Guys on dating apps — i.e. the fellows I'd actually (potentially) be going out with IRL. So I decided to turn the tables and ask a bunch of my matches for their best first date tips in an effort to round out my own knowledge and get a sense of what men really want. Or, at least, what seven men in the greater London area between the ages of 18 and 28 really want.
In truth, I had fairly low expectations for this experiment. I was prepared for guys to hit me with cagey responses ("Why are you asking?) or clichéd suggestions ("Just be yourself"). And while several replies fell into these two categories — and several people unmatched me upon learning that I was a dating writer (whoops!) — a handful of gents also shared real, honest, and thoughtful advice.
According to these guys, what men want — what they really, really want — is to go out with someone who approaches their date with an open mind, understands the art of balancing sharing their own stories with listening to others, and is down to have a good time. I'll let them take it from here.