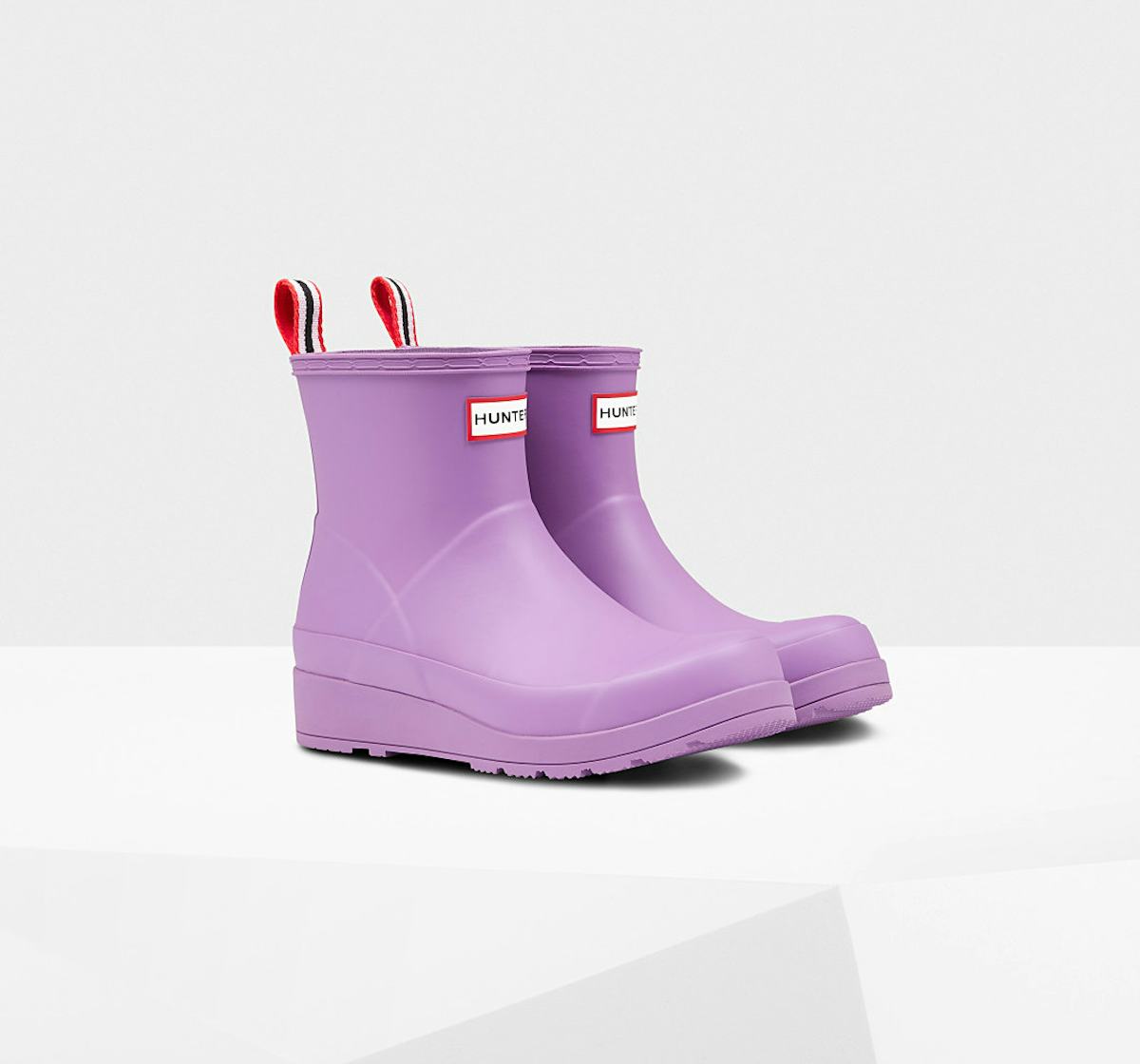 Hunter Boots Just Dropped The Most Covetable Rain Boots Of Fall 2018 & They're Under $100
Zappos
One of the best parts about going back to school is the prerequisite back-to-school shopping. There is nothing better than getting a new outfit or three to own your first week in, am I right? The new Hunter Boots x Zappos' Campus Collection will not only re-define how you think of collegiate style, but it'll also get you prepared for whatever slush, rain, wind, and the like that fall's got in store for us. Even if you're no longer in school the collection's offerings of slick boots, a convenient bag, and cool outerwear are guaranteed to pique your interest, especially seeing as cute rain gear is trending for fall. Hunter's new offerings are so good that you might just be wishing for a rainy day.
The capsule collection features some of Hunter's most iconic pieces but reimagined exclusively for Zappos. "Because, let's face it," begins a press release from the brands, "the modern college survival kit includes more than just book bags, laptops and Ramen noodles – for the collegiate young adult, they also need the outerwear essentials that will get them comfortably through the trek across campus as the fall/winter weather sets in."
Ranging between $85-$135, the collection features an assortment of short and tall wellies, sweatshirts, jackets, and a mini backpack. The aesthetic is minimalistic but cool, centering on a red, white and black color palette and featuring subtly elevating design details. Each piece within the collection is something you could throw on at a moment's notice and look impossibly cool in, even in the midst of the rainiest of days. You can shop a few of the best pieces from the collection below, or check it out in its entirety on the Zappos website. Before you do, you might first want to check if Hunter x Zappos' one-of-a-kind airstream trailer will be hosting a pop-up shop at your campus. Participating schools include the University of Georgia, Ohio State University, University of Wisconsin, and many more.
Ah college, how I miss thee!
Crew Love
I had no idea how underrated the crewneck sweatshirt was until I got to college. It was the ideal thing to wear while trekking across campus in the cold, during long overnight study sessions, and on those days when leaving your bed is simply just not an option. I also encourage you to eat Ramen noodles in one just once.
Short Order
These boots are so good for so many reasons. For one, they're stylistically cooler than pretty much all other shorty rain boots around thanks to their ever so slightly wedged sole and sleek, monotone design. They're also super practical for those days when the calf-height wellies would be too tall and protective. Avoid the clunkiness when you can, right?
Plus, you're getting Hunter boots for less than a hundred bucks.
Got Your Back
Because the backpack will always be a back-to-school staple, no matter how old you are. This one is super straightforward and minimal in style, featuring an all-black design save for a Hunter logo patch on the back.
Fine Lines
For those days when clunkier tall rain boots are an absolute necessity, except rather than looking sad these ones will still look cool and well-designed. The power of a well-placed stripe knows no bounds.