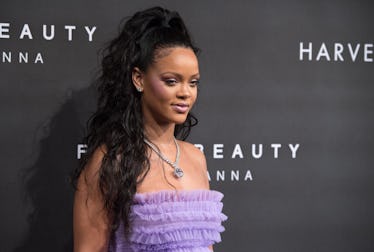 Howard Students Sang Rihanna To Protest The Financial Aid Scandal & It's Everything
Chris J Ratcliffe/Getty Images Entertainment/Getty Images
Well everyone, Rihanna has once again proved that she is a queen amongst us mere mortals. Since reports surfaced on March 28 that Howard University has been misappropriating need-based financial aid funds, it's clear that these students know how to demand what they're owed. Howard students sang Rihanna and took over their administration building to protest the financial aid scandal, and demand the money they were cheated out of. After all, what's a better way to demand attention than bumping Rihanna?
Following reports that Howard University had been misappropriating funds meant for low-income students, Howard students gathered together in the campus administration building on March 29 and started chanting Rihanna's hit "B*tch Better Have My Money" to protest the reported scam, according to a video tweeted by Huffington Post front page editor Philip Lewis. This is already iconic for sure, but believe it or not it gets even better. At 8:36 p.m ET the Barbadian pop princess actually responded to the students' protests by retweeting a video of the demonstration and captioned the retweet with the strong arm and raising hands emojis.
It's already inspiring seeing students taking a stand, but it never hurts to have a little celebrity endorsement. Plus, it's coming from everyone's favorite Caribbean queen.
That's an anthem if ever I heard one.
On March 28, The Root reported that Howard University had fired six employees in relation to financial aid misconduct. The same day, Howard University president Wayne Frederick released a statement that confirmed some students who worked for the university had been receiving more financial aid than they were supposed to — literally more than the cost of tuition. The statement did not say how much money had been misappropriated. Findings were from an internal investigation conducted from Dec. 2016 to 2017.
Frederick said,
The investigation found that from 2007 to 2016, University grants were given to some University employees who also received tuition remission. The audit revealed that the combination of University grants and tuition remission exceeded the total cost of attendance. As a result, some individuals received inappropriate refunds.
Well, it looks like those Howard students want that inappropriately refunded money back, and they want it now.
Rihanna approved.
Since reports surfaced of the scandal, a number of Twitter users started mentioning the name Tyrone Hankerson Jr., a Howard graduate student and financial aid office student employee. According to tweets, Hankerson allegedly cheated his fellow students out of financial aid funds.
Historian Tariq Nasheed tweeted a photo of Hankerson along with a caption pointing out the expensive name brands the graduate student was sporting.
In the tweet he wrote,
There are Howard University students living off ramen noodles, but student Tyrone Hankerson was out here vacationing in Brussels, wearing burlap Prada pants and Gucci loafers, and no one suspected a scam?
Hankerson addressed the allegations through a statement obtained by ABC News. He said,
Please know that I have done nothing illegal or wrong. When the truth comes out, it will be confirmed that I followed all rules and protocol with the approval of the, then, financial aid officers in any grants, scholarships or awards given to me as a student who attended class all year round and traveled abroad. Please also know that I would never do anything to hurt an institution I love so much or the thousands of students who are a part of the Howard University Family that I had the privilege to serve during my undergraduate experience at Howard.
These reports followed an anonymous blog post posted on online platform Medium which accused university officials of misappropriating the financial aid funds. The Medium post has since been deleted, but according to HuffPost the blog post made a number of accusations, including accusing the university president of being aware of the financial aid scam since May 2017. The post also mentioned Hankerson, alleging that the graduate student had received more than $400,000 in financial aid for four years. Oof.
Even though this may not be good news for Howard students, at least the internet can always get a few jokes out of a tough situation.
Jokes aside, these Howard students have one message to their university.
Never stop protesting, and never stop singing Rihanna, kids.