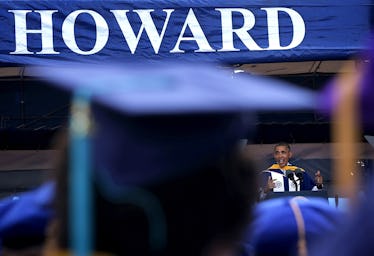 A College Student Allegedly Pulled Off The Scam Of A Century & Twitter Is Shook
Alex Wong/Getty Images News/Getty Images
On Wednesday, March 28, Howard University became the center of story that revolves around an alleged financial aid scam. While news reports about Howard focused on the fact that the university fired six employees in relation to the misappropriation of financial aid funds, the conversation on social media was much different. Wednesday saw a flood of tweets about Tyrone Hankerson Jr., a graduate student and former financial aid office student employee, at the university who is alleged to have defrauded students of financial aid.
One particular tweet read, "There are Howard University students living off ramen noodles, but student Tyrone Hankerson was out here vacationing in Brussels, wearing burlap Prada pants and Gucci loafers, and no one suspected a scam?"
Another tweet read, "Crazy how many students have been forced to leave the university bc they lost their scholarships out of nowhere or found random balances on their account just for Howard administration to give themselves illegal payouts."
Hankerson has since responded to the controversy in a statement obtained by ABC News. The statement reads,
Please know that I have done nothing illegal or wrong. When the truth comes out, it will be confirmed that I followed all rules and protocol with the approval of the, then, financial aid officers in any grants, scholarships or awards given to me as a student who attended class all year round and traveled abroad. Please also know that I would never do anything to hurt an institution I love so much or the thousands of students who are a part of the Howard University Family that I had the privilege to serve during my undergraduate experience at Howard.
Here are the events that led to Hankerson becoming the subject of accusations.
On Wednesday, Howard confirmed that six fired employees had been let go because of "gross misconduct and neglect of duties," a result of the university discovering that financial aid funds had been misappropriated for years, per The Washington Post.
A statement from Howard's president, Wayne Frederick, clarified on Wednesday that the university's findings were the result of an internal investigation that began in December 2016 and concluded in 2017.
"The investigation found that from 2007 to 2016, University grants were given to some University employees who also received tuition remission," Frederick said in the statement. "The audit revealed that the combination of University grants and tuition remission exceeded the total cost of attendance. As a result, some individuals received inappropriate refunds."
Frederick's statement — which claimed that students who work for the university had been receiving more financial aid than they were supposed to — came just a day after a blog post on the website Medium accused student employees of that same thing. The Medium post, which has since been deleted, made a number of key accusations, according to HuffPost. Among those accusations is that the university's president allegedly was aware of a financial aid scandal since May 2017. (On Wednesday, the university confirmed that an internal investigation ended in May 2017.)
The post also alleged that one student employee in particular, Tyrone Hankerson Jr., had been unduly awarded more than $400,000 in financial aid over four years. In his statement, Hankerson insisted that he "followed all rules" in receiving financial aid.
The combination of the accusations made in the Medium post, combined with reports about Howard University taking action in relation to a financial aid scandal, made Hankerson a trending topic on Twitter.
The result? A wave of tweets full of movie references, Spongebob memes, and photos of the student accused of enjoying a lavish lifestyle at the expense of other students.
Despite the claims, Hankerson has maintained his innocence. "When all is fully-disclosed, the truth will prevail, and I know I will be vindicated," his statement read.
For now, the only truth that seems clear is that a decade-long scandal at Howard University warranted the firing of six unnamed employees.