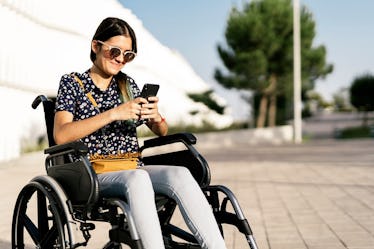 How You React To Being Ghosted, Based On Your Zodiac Sign
OK, I'll admit it: I am a huge Halloween-head. I love everything about the holiday, including the spooky stories about goblins, ghouls, and ghosts (oh my!). That being said, I loathe real-life ghosting. You know, that very digital age move some folks pull in the dating realm where they just kind of disappear? Believe it or not, how you react to being ghosted might vary depending on your zodiac sign. For some folks, being ghosted might not feel like the worst betrayal ever. For others, the lack of communication might really hurt. Remember: It's completely valid to be upset about being ghosted or confused when it happens out of the blue.
When I was last ghosted by a crush, I wondered if I had said something weird to make them uncomfortable. Ultimately, I wasn't able to get any answers to my questions. Instead, I worked to understand that another person rejecting me in no way reflects on my self-worth. Ghosting can be a hard experience to process, so don't be afraid to reach out to friends, family, or a therapist about what is going on in your mind.
Check out how each zodiac sign will respond to being ghosted because sometimes, you can feel it in your bones. (Get it?)