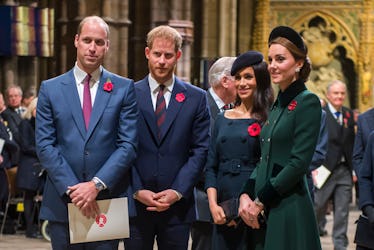 Here's How Meghan & Harry Will Spend Their First Christmas Together With William & Kate
WPA Pool/Getty Images News/Getty Images
With all the reported drama that's taking place between Prince Harry and Meghan Markle, and Prince William and Kate Middleton, you'd probably expect the Fab Four to divide and conquer during the holiday season this year. I mean, if things are as intense as some media outlets are making them out to be, it just makes sense for the two couples to go their separate ways, you know? So how will Meghan and Harry spend Christmas? Will they jet off to the Netherlands for another secret vacay at Amsterdam's Soho House like they did back in September? Or just veg out at home and watch Netflix while making one of their famous roasted "engagement" chickens? I vote for the latter (and an invite, please)!
But it doesn't look like either of these aspirational scenarios will actually be taking place, you guys. Because according to The Daily Mail, the Duke and Duchess of Sussex will spend Christmas at Sandringham with the Duke and Duchess of Cambridge. And both couples will reportedly be with the Queen in Norfolk for the Royal Family's traditional holiday celebrations. I hope her Majesty plans to stock up on the eggnog this year, because something tells me she's seriously gonna need it!
The news that the whole fam will be together for Christmas comes as a bit of a surprise, given that it was reported on Dec. 1 that while Harry and Meghan would be at Sandringham, William and Kate were planning to spend Christmas with the Middleton family in Bucklebury, Berkshire. But apparently, that was never actually the case.
"Reports regarding Christmas are wrong," a source told the Daily Mail. "Everyone is in Norfolk this year." Elite Daily reached out to the Palace for confirmation regarding this report, but did not hear back by the time of publication.
'Tis the season for burying the hatchet, I guess. If there even was a hatchet to bury, that is. Because while multiple sources were reporting all the drama between Meghan and Kate — which reportedly all started with a big fight prior to Meghan and Harry's wedding over Princess Charlotte's bridesmaid dress — according to The Mirror, Buckingham Palace is now straight-up denying that Meghan Markle and Kate Middleton were ever at odds, stating: "This never happened."
Good to know! I mean, who would have even predicted at this time last year that there would be even the teensiest bit of disharmony between these two royal couples? It seemed like everyone was getting along so well last Christmas. Remember how Harry and Meghan — who weren't even married yet — stayed with William and Kate at their Norfolk home on the Sandringham Estate, and then joined the rest of the family for church and lunch?
Here's what Prince Harry had to say at the time re: Meghan Markle's first Christmas with her future in-laws.
Oh, it was fantastic ... she really enjoyed it. The family loved having her there. Together we had an amazing time, we had great fun staying with my brother and sister-in-law and running around with the kids.
It looks like the royal family is just peachy and we can finally put those stupid Meghan and Kate feud rumors to rest for good and break out the spiked eggnog! (I'm assuming royals drink spiked eggnog on Christmas. They have to, right?)