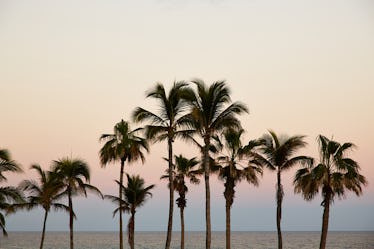 You Can Win A Free Vacation To Mexico If You Do This One Simple Thing
Ah, January. Blustery winds are gnawing away at my already-frozen heart as we speak, and every moment I slip on ice outside my apartment building kind of makes me wonder why I ever decided to stay in the Northeast after college. Poor judgement on my part, I guess. Taking a vacation would be completely ideal, but traveling to a warm faraway land tends to be way out of my price range, especially after Christmas (and honestly, last weekend). However, the good news is that any of us can win a free trip to Mexico through Sugarfina, and just talking about the amenities are revitalizing my icy soul.
To win this unreal trip for two, you'll just have to fill out a little personal info on the Sweethearts in Paradise sweepstakes page, which can easily be found on Sugarfina's website. You'll then be prompted to interact with Sugarfina's social media pages in order add more entries (by doing things like following their Twitter or Instagram), thus increasing your chances. The sweepstakes, according to their site, is only lasting from Jan. 26th, 2018 to Feb. 2nd, 2018, so entering within the week is dire. That is, unless a free beach vacation isn't your thing (which, it probably is, because free beach vacations are kind of my dream come true).
The lucky duck winner will receive four romantic nights and five fun-in-the-sun days for two, and they'll be living the relaxation dream at Playa del Carmen's Mahekal Beach Resort. The two fortunate souls will not only get the chance to listen to the waves every morning and night in an oceanfront king bungalow, but they'll also be greeted with chocolate-covered strawberries in their room (okay you got me, that's freaking sweet). The winners will also receive free breakfast every morning, as well as a choice of a free lunch or dinner at any of the five delicious restaurants on the resort, every day. For one time on the trip, they'll also get a choice between receiving a relaxing and romantic AF couple's spa treatment, or a fun and adventurous snorkel excursion.
In addition to getting treated like literal royalty (without having to marry into the royal family), winners will be showered in a host of sweet free gifts. They'll get a $250 gift card for some adorable bathing suits at For Love & Lemons, two Sugarfina Valentines candy day trunks to sooth their sweet tooth, two Le Stud Leather Cuyana travel bags so they can travel in style, and two Ban.do Sweetheart Towels, because bringing a little extra love to the beach is absolutely mandatory. My question after entering is this: How did we deserve any of this amazing treatment? Is there a catch? After entering it looks like there's literally nothing to lose, and I'm left crossing my fingers and toes, like I'm playing Twister by myself. This honestly sounds like the trip of a lifetime, and if my boyfriend and I get to go on this extravagant vacation, I will literally die (but then I'll come back to life just in time for the trip).
Even though paradise is rarely ever free, it can be if any of you guys win this wild trip. While I want to tell you to enter, please don't, because I seriously want to win. But if any of you win, by chance, please take me with you, or at least send me a chocolate strawberry from your oceanfront bungalow? Your 'gram is gonna be total fire, and I'm already looking into underwater cameras for that snorkel trip. Between a sweet room, amazing food, and a host of free treats, this seriously sounds like the beach experience of a freaking lifetime... and wow am I really craving some candy right now.
Check out the entire Gen Why series and other videos on Facebook and the Bustle app across Apple TV, Roku, and Amazon Fire TV.