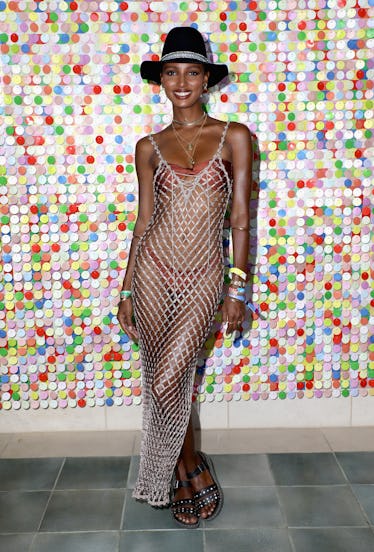 How To Wear Lingerie As Clothing & Not Melt In This Heatwave
Roger Kisby/Getty Images Entertainment/Getty Images
I am currently sitting in my bedroom in a pool of my own sweat. A fan is directly on me and my window is open but the lack of AC in my building is brutal and I am melting—cute! How to wear lingerie as clothing is important AF to know in the midst of this heatwave because if you're anything like me then all you can bring yourself to wear in the comfort of your home is a pair of underwear. While it's obviously not the norm to walk out in public wearing only a thong, it is okay to wear a bra as a top, a slip as a dress, and a bodysuit as, well, a bodysuit. Thank god. You only need to look to the Kardashians, Hadids, and basically every other supermodel on earth to see how lingerie has become the cool—in both terms of the word—sartorial norm.
Check out four ways to wear lingerie you likely already own as clothing below.
Total Transparency
Instead of choosing a shirt made from a solid and therefore less breathable fabric, try opting for a top made of mesh, netting, crochet, or another porous material—something that you can see right through when you hold it up. Then, pick out a bralette in a coordinating color or pattern to wear under it. It's literally the easiest chilled out summer style to nail and is pretty sexy, too.
Suit Up!
There's nothing sexier than a lace bodysuit and I stand by that opinion, even when daytime dressing is involved. A lot of bodysuits are lace, so if you need to wear another layer under yours in order not to free the nipple (more power to you if you do!) throw on a lightweight bra. I especially love the bodysuit look for a night out. I'd pair it with a black miniskirt and lariat necklace for a super sexy outfit but as you can see below it works with pretty much anything.
Let it Slip
Slip dresses have been worn outside of the bedroom for a long time thanks to their popularity in the '90s so this isn't exactly something new. However, the way they're styled has gotten a bit more relaxed and varied. Throw on your slinky minidress with sneakers and a bomber jacket for a chill day out shopping for groceries—silk is no longer reserved for post-9pm.
Short Order
Silky pajama shorts are another ace way to incorporate your lingerie into your everyday summer wardrobe. Whether they're lined with delicate lace or feature a loud print, they can be styled to look crisp and put together. My recommendation would be to get an oversized button-up shirt that's super breathable and slightly sheer to wear over the shorts. Button the top few buttons up to the collar and left the rest undone, allowing a triangle of your stomach to peep through. (See below.) If you have a matching bralette, throw it on underneath. This look pairs excellently with comfy loafers, sneakers, and slip-on pool slides.