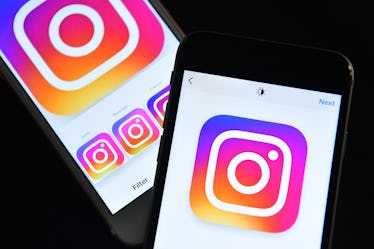 You Can Hide Unwanted Photos On Instagram To Keep Your Profile Picture Perfect
Carl Court/Getty Images News/Getty Images
While it's hard to imagine life before the 'Gram, a small part of me sometimes longs for those pre-social media days when a not-so-great photo wasn't visible to everyone and their mother. I mean, who wants their new crush to see that awkward haircut they used to rock in the dreaded "Photos of You" section? Literally, no one ever. Even if your hot-mess photos are destined to live forever online, not everyone needs to see them. With that, here's how to untag yourself in Instagram photos to make sure you only show off your best angles.
Just like on Facebook, it's so easy to rid your account of unwanted photos or, in some cases, photos that aren't even of you. Instead of dropping my handle in the comments section, well-meaning family members are constantly tagging me in photos of puppies, food, and the like. I mean, I'm all for tiny Goldendoodle posts, but I don't really want them all over my "Photos of You" collage.
To make sure your Instagram is on fleek, simply head over to your Instagram profile on the app, tap on the "Photos of You" icon (which is the third icon from the left in the icon bar under "Story Highlights"), and select the picture you want to scrub from your profile. With the undesired photo selected, tap the three dots in the right hand corner, and select "Photo Options" from the menu.
From there, you can select "Hide from My Profile," and voila, the photo is as good as gone. By doing that, people will no longer see the tagged photo on your own Instagram profile, but you will remain tagged in the original post. If you want to completely remove the tag from the photo, first, tap the photo and select your name. Then, Android users can simply choose to "Remove Tag," while iOS users will have to tap "More Options," select "Remove Me From Post," and choose "Remove."
You can also simply hide a tagged photo by going to the original photo, tapping on your tagged name, and then selecting "Hide from My Profile," per Instagram Help.
Another way to ensure that the photos on your Instagram profile are capturing your best side is by choosing whether photos you're tagged in appear on your profile automatically or manually, similar to the post review feature on Facebook. If you have an Android phone, select the "Photos of You" icon, and tap the three dots in the top right corner. From there, you can select "Tagging Options" to choose if you want to add a tagged photo or video automatically or manually. For iOS users, it's very similar — just tap the "Settings" icon on your profile, select "Photos of You" under the "Privacy and Security" section, and then choose "Add Automatically" or "Add Manually."
Considering that literally anyone can tag you in a photo on Instagram, choosing "Add Manually" could be a good option to make sure your account looks exactly the way you want it to. Plus, you can weed out any images that aren't of you in the first place.
Now, let's say you have a few questionable posts on your own account that you just can't bear to delete, but you want to keep them off of your public profile. In this case, you can archive a post you've shared to hide it from your profile for as long as you want. You'll still be able to see the image in the archive section, and the image will still keep all its likes and comments. However, your followers and other Instagram users will no longer be able to see it.
To archive an image, go to the picture you want to hide, and tap the three dots in the upper righthand corner of the screen. Next, select "Archive" to rid it from you profile. After archiving an image, you can see it any time by going to your Instagram profile and selecting the clock icon in the top righthand corner. You can always reverse the action by tapping the clock icon in the top right of your profile. Select the post you want to un-archive (you can click on the arrow next to "Archive" to select images and videos from either "Posts" or "Stories"), then select the three dots above the post once again. From there, you'll be able to select "Show on Profile."
Social media posts may last forever, but not everyone needs to see every single picture you're tagged in. Now that you know how to remove and hide photos, it's time to start untagging. May your Instagram profile always be #flawless.