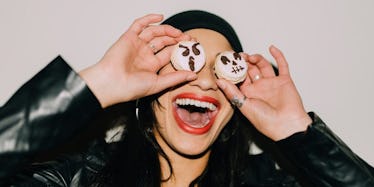 Why #BadPictureMonday Is A Great Reminder To Love Yourself And Your "Flaws"
Chelsea Victoria
Perfect angles. "Just so" lighting. Fleeky eyebrows. A mean contour. The littiest backdrop. All of these things have become part of the our social media selfie culture and yes, they are awesome AF. The other cool part of our culture is how regularly we are also embracing our not-so-put-together moments. Loving yourself and your flaws is the new wave in this era of body positivity, so what better way to keep the momentum going than to start a #BadPictureMonday as a weekly reminder?
I know, I know. Bad pictures!? That's why I'm only kidding.
OK, so no I'm not, but smile anyway!
#BadPictureMonday does not exist to pander for "likes" and affirmations on social media, but instead is here to push us further away from our obsession with perfection and closer to our total acceptance of what we look like and experience on a daily basis.
#BadPictureMonday Is About Loving Yourself From Every Angle
Check out these "bad pictures":
The hashtag was started by a poet named, Sonya Renee Taylor, who also founded the online body positive platform, The Body Is Not An Apology in 2011. The point of posting these photos is to acknowledge that nothing about our body is bad or in need of hiding, even when we are showing ourselves in what is considered a not so flattering position.
That unflattering look could be a shot of you chomping down on your favorite junk food, sitting at a weird angle or not showing your "good side."
Taylor shared that she was inspired to create the hashtag movement after she realized how often she untagged or deleted photos that other people shared of her.
She told Refinery 29,
[These were] photos I really hated. I was very quick to delete them or to untag myself. My behavior just wasn't in alignment with this thing that I was growing. I thought, 'Well, what would happen if I just didn't untag the photos? What if I just embraced them?'
The Body Is Not An Apology website describes just how these #BadPictureMondays work.
As you read this, 300,000 people on-line are untagging, deleting, burying deep in the recesses of the junk folder, pictures they consider "bad". Social Networking has created a digital army of perfect smiles and brilliantly coiffed heads who all believe the only pictures that should be seen are the ones where we look "good". "Bad" Picture Monday reminds us that there is no "bad" way to inhabit a body. Each Monday we encourage people around the world to change their profile pictures to photos they do not like.
I would consider participating this because I can say with an unapologetic keyboard stroke that I delete at least 80 percent of the stream of photos I take when I do decide to take photos. Sometimes, I delete 100 percent of the photos I take because even though I might love my look on that day, I'm just not satisfied with any of the images I see. "You just have to see me in person or you'll miss it," is what I jokingly tell people in my head.
I know that this #BadPictureMonday just might be what I need to accept every angle and every shot of myself as beautiful. It also gives me a chance to upgrade my Instagram, since I abandon it way too frequently these days. Every imperfect photo posted dismantles a culture that obsesses over perfectionism and looks more than the character of people.
And hey, what a clutch excuse to shamelessly take selfies, right? #BadPictureMonday, here I (may) come.