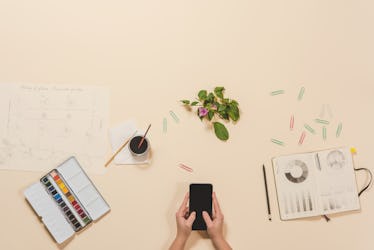 If You're Easily Distracted At Work, These 6 Simple Tricks Will Help You Stay Focused
Have you ever heard someone give a lecture about how it's important to "work smarter, not harder"? Well, as annoying as that lesson may be when you're in the middle of 15 assignments and feeling like you're about to drown in a puddle of your own work, there's definitely some truth to it. Learning how to tune out distractions and get sh*t done faster is a lifelong lesson, one that will only help you the more you work at it.
When you work in an office, there are plenty of distractions that can get in the way of you doing your literal job, from noisy co-workers, to blasting music, to that "open workspace" vibe, which basically invites everyone to come talk to you at your desk every five minutes. But even if you work from home, there are distractions you have to avoid there, too, like playing with your pet floof, or toggling over to Netflix for 10 minutes or so for a "quick" break.
Overall, finding ways to work more efficiently isn't usually about putting in extra effort, but more about finding ways to cut out the noise, both literally and metaphorically. Once you do that, you'll be surprised by how quickly you get your work done each day.
Here are six quick tips for drowning out the daily noise of your life and getting sh*t done faster.