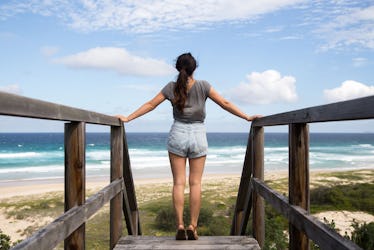 8 Ways To Tell You're A City Girl Who Needs To Go Coastal, ASAP
When the ocean is calling, it's almost impossible not to answer. If you live in the city, that coastal life can seem pretty distant and unattainable because it's not right in front of you. Your desire to be at the beach, though, isn't obscured by the fast-paced nature of where you live. Once you're alone and your schedule has slowed down, you know how to tell if you're a city girl who's in desperate need of some Vitamin Sea.
It's almost like a little piece of you is tucked away by the ocean. When your life is constantly surrounded by skyscrapers, bustling streets, and busy bee people, you're bound to sorely miss the chill vibes of the beach.
There's nothing like the soft breeze brushing against your face as you turn over on the sand to even out your tan. Your countless pictures prove the beach is part of some of your best summer memories. Whether it's your wanderlust or the vibrant mermaid soul within, you know when you're due for a trip to get your ocean fix. The distractions of the city can only hold your attention for so long before the ocean child in you starts to overcome you in these eight ways.