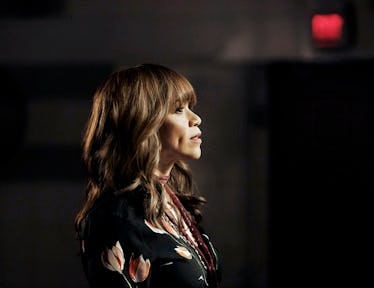 'Rise' Will Fully Restore Your Inner Gleek & You Can Stream The Show's Epic Songs Now
Peter Kramer/NBC
If you haven't been watching the NBC drama Rise, a show that's basically a Friday Night Lights - Glee crossover, it's time to start. Rise follows a group of high school musical theater kids in a working-class town as they attempt to save their neglected drama department. Like Glee, the show's strongest elements are its complicated musical numbers, and the catchy tunes will have you singing along in no time — in fact, after just one episode, fans are already wondering how to stream songs from Rise. NBC is making it super easy for Rise-ers (Is that a thing? It should be a thing) to stream songs from the musical series. So get ready, Gleeks, your Spotify playlist is about to get real good, real fast.
Die-hard Gleeks may remember having to buy each individual song from the show off iTunes or waiting until the season was over to purchase the entire collection from that year. Now, in 2018, NBC has figured out a better way to get viewers engaged with the show: rather than wait until the show airs to allow fans to access the songs, NBC (with the help of Atlantic Records) will release a few tracks ahead of the new episode. This way, devoted Rise fans can guess where each number will appear in the episode and sing along with the cast mates as they perform the songs. Of course, many of the tracks will be covers of songs from Spring Awakening, the theater department's new musical, but others will be "non-musical theater tracks that play throughout the episode," like a cover of Macklemore's "Glorious" or "Football Freestyle," a song written by Lin-Manuel Miranda exclusively for the show.
According to Bustle, new batches of songs will drop on Spotify and iTunes the Friday before each episode, giving Rise fans four days to listen to the songs before they appear in a new episode on Tuesday night. Spotify makes it a little difficult to find the songs (they aren't organized under a particular genre or under new music), but if you search "Rise Cast," the songs will come up under the "Artist" tab. However, not every song will be available to stream in advance, giving producers an opportunity to maintain a little suspense if needed. NBC/Atlantic Records dropped five songs in advance of the pilot but only two in advance of the second episode, indicating that there's no magic number when it comes to how many songs fans will be able to memorize before the show airs. According to Kevin Weaver, president of Atlantic Records, West Coast, "Some episodes have less music, some have more." He continued, "We'll base it on the music in that week's episode. We're releasing the most important featured songs."
In addition to streaming songs on iTunes and Spotify, fans can access songs from each episode on Atlantic Records' YouTube page, where they have a playlist specifically for Rise. This playlist includes official music videos for each song as well as lyric videos, so fans can learn all the words to original songs like "Football Freestyle" or even put on their own version of Spring Awakening.
If you're looking for videos featuring Rise's amazing cast members, you can also head over to the Rise official YouTube page, which features cast interviews, episode clips, and music videos from the show. The Rise YouTube page also features exclusive digital content, like a web series called The Understudies. According to the official page, this new series follows "the inner world of Stanton Drama's background players, who, while not headlining shows just yet, have big dreams all their own."
There are plenty of ways to stream the songs from Rise, so if you're already a devoted fan, you won't have to go even a minute without one of these catchy tunes.