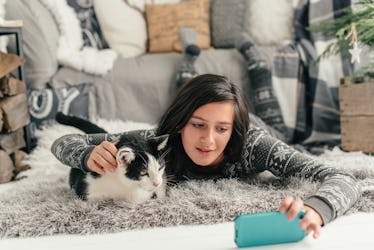 Experts Say These 6 Things Can Help You Get Things Done When Winter Makes You Feel Blah
The holiday season has always been separate from winter in my mind, so for me, Jan. 2 is the official start to the coldest season. The way I see it, there's just not a lot to look forward to after New Year's Day, except, like, springtime. Don't get me wrong, I love cuddling under a gigantic throw blanket with a cup of tea and a good book. But I don't love how the lack of sunshine coming through my blinds makes me feel sluggish. Sound familiar? Trust me, if you've ever wondered how you can stay productive in the winter, you're not alone. It's a very real struggle that a whole lot of people grapple with from the beginning of January all the way through March.
Of course, it's important to note that there's a difference between hints of the winter blues that kind of ebb and flow from one day to the next, and seasonal affective disorder (SAD), which, according to the chief science officer of TAO Connect, Dr. Sherry Benton, affects 500,000 people every year. Anyone can experience bouts of depression or anxiety over the course of these four frigid months — there are so many elements of the winter season that can make it feel like the most humdrum time of year — but SAD is a clinically diagnosed condition, and should be worked through with a professional, according to Dr. Benton.
Whether you're experiencing SAD, or have periods of time in the winter when you feel low and lethargic, becoming stagnant in both your work and personal life can be a byproduct of that, Benton tells Elite Daily. It's a combination of cold weather, sickness, time changes, and post-holiday slumps, she explains to me over email. "For a lot of people, coming back from the holidays and immediately having to return to work or school with no time off can be daunting and force them to lose motivation," she says, adding that the cold weather can also be a factor, as it tends to make people a little more sedentary than they're used to in the warmer months.
To help you combat these feelings of lethargy and maintain (at least somewhat) productive vibes during the next four months, here are some expert tips to get sh*t done, despite the cold weather weighing you down.