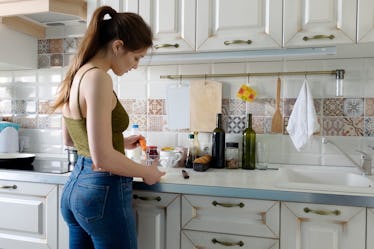 How To Sneak Turmeric Into Your Diet If You're Not In Love With The Taste
Let's paint a picture of the optimal 2018, shall we? Imagine you've finally nailed down that perfect nighttime routine featuring sheet masks, bubble baths, and moon milk to ease you to sleep. You wake up early every morning without a grumpy bone in your body to boot, and you've finally figured out how to sneak turmeric into your diet so you can reap the benefits without having to put up with the bitter taste.
Face it, friend — you're just as much of a sucker for Instagram trends as I am, and once influencers started gloating about how amazing this yellow spice is for your skin, you couldn't resist adding it to your kitchen cabinet and new year's resolutions. But if you weren't expecting the potent taste to be so, well, potent, and now you're stuck with a container full of the stuff that you don't want to go to waste, the good news is, it doesn't have to.
Trust me on this one, guys, because I am one of the pickiest eaters you will ever meet. If something doesn't taste good, I'm either refusing to let whatever it may be anywhere near my mouth ever again, or testing different recipes to mask the flavor if the health benefits are just that good. Turmeric is one of those ingredients that is definitely an acquired taste; some people love it, some people hate it, and considering the cost of spices these days, you'd much rather identify with the former, right? That's what I thought. Here are a few recipes that'll help you sneak turmeric into your diet so you can stay healthy, but still enjoy your food.