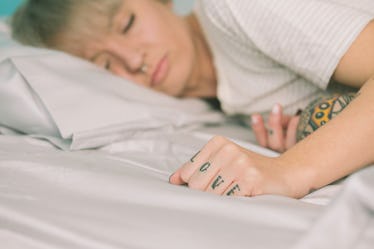 6 Hacks For Sleeping Through The Night That You've Never Even Thought About Trying Until Now
Falling asleep and staying asleep are two completely separate demons we're all faced with when it's time to wind down for the night. There are a plethora of ways to fall asleep to find on the internet, but if these so-called tricks and tips get you to snooze initially, and you still end up tossing and turning throughout the night, then what's the point? There have to be at least some foolproof hacks out there that can tell you how to sleep through the night so you can finally get the high-quality shut-eye you deserve.
Your sleep cycle doesn't solely determine how you're going to feel when you wake up in the morning. Whether or not you're getting the necessary six to eight hours of uninterrupted slumber determines how you feel physically and how you function mentally. In other words, it's vital that you uncover behaviors and techniques that work to lull you into a deep sleep, and keep you dreaming until your alarm sounds.
At least in my experience, counting sheep hardly ever does the trick. Fluffing your pillow is a temporary solution to a long-term problem, and while, sure, cutting out liquids before bed keeps me from having to get up and pee every five seconds, it doesn't negate the fact that it's 10 p.m. and I'm practically dying of thirst. It's time to think outside the box (springs), friends, and start dabbling in more creative methods to sooth yourself to sleep through the night. Here are a few for you to consider.