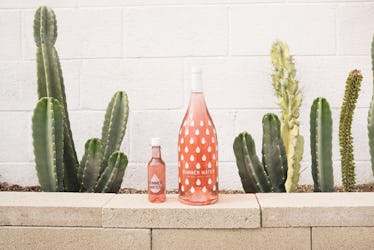 This Boozy Subscription Service Will Literally Bring You Rosé All Summer Long
Winc
Summertime and the sippin's easy, because Winc's rosé subscription service is back for another year with enough "pink drink" to last you all summer long. What could be better than an endless supply of rosé delivered right to your doorstep during the warm summer months? Oh that's right, absolutely nothing. You can let your fears of running low on rosé subside, but you better act fast if you want in on this deal. Here's how to sign up for Winc's rosé subscription service before it sells out.
You will never have to worry about running out of your favorite blush-colored refreshment because Winc is here to keep you stocked up Memorial Day through Labor Day. That's right: Now you can literally "rosé all day" when you join the digital winery's Summer Water Societé. The subscription-based service promises to keep your fridge brimming with bottles of pink deliciousness all summer long by delivering the beverages right to your front door.
If the massive Whole Foods rosé sale isn't your thing, this bright and refreshing subscription just might do the trick. Deliveries are spread out over three shipments from May to July, and the whole service will cost you $350. Honestly, if you went through and totaled up the receipts in my wallet with weekly stops at the wine store or splitting a bottle with friends over dinner, it would add up pretty quick. I think we can agree than $350 is a straight-up bargain for quality rosé. And let's not forget the complimentary delivery part! Winc saves you the trouble of braving long store lines (and ever having to leave your couch, really). I'll drink to that!
Here's a breakdown of exactly what's included with your Winc membership:
May: Three limited-edition screen-printed Magnum 1.5 liter bottles of rosé (the equivalent of six regular-sized bottles).
June: 24-pack of Summer Water droplets (equivalent of six bottles).
July: Three limited-edition screen-printed Magnum 1.5 liter bottles of rosé (the equivalent of six regular-sized bottles).
For anyone counting, that's 18 regular-sized bottles of premium rosé. All in all, it's a pretty solid deal.
Not familiar with droplets? The mini-bottles are Winc's newly launched wine collection that's great for packing in a beach cooler or easily toting to a backyard barbecue. Also, can we talk about how adorably genius the name is? Nothing will make you feel fancier than cracking open an itty-bitty bottle of rosé while lounging by the pool this summer. The Summer Water rosé is a dry, light, and crisp beverage with hints of strawberry, pink grapefruit, and white peach that's perfectly packaged in a tiny bottle. Yes, please.
Also, the large magnum bottles are downright artsy. The clear 1.5 liter glass bottles feature a pretty white teardrop design. Before you toss your bottle in the recycling, considering keeping one or two around to use as a flower vase or water pitcher to adorn your patio table as you crack open the next bottle.
Time is of the essence, though. Last season, the rosé subscription service was so popular that it accumulated a 1,000-person waitlist. Yeah, it is that good. To help you avoid being put on standby this summer, you should probably sign up for Winc's rosé wine subscription right now. Your millennial pink-loving heart will thank you later.
Lucky for you, the members-only service just opened up on Monday, April 16, so try and snag a spot while you still can. Enrollment closes on Tuesday, May 15, but I definitely don't advise waiting that long or you'll risk missing out on one of summer's best deals. Sign. Me. Up.
Cheers!