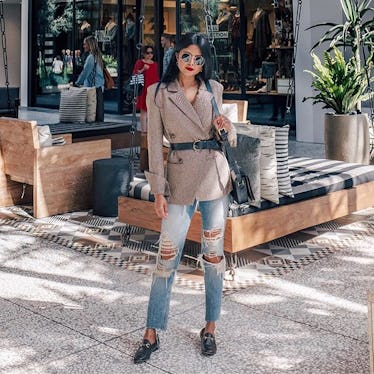 These Under $20 Accessories Look Expensive AF & You Can Buy Them At The Mall
When I was in high school, the mall was not only the best teen hangout but a place to score some of my favorite fashion items (that is, if what I wore could be considered "fashion"). These days, I've learned how to shop at the mall and still manage to look like a polished adult — though I usually don't do much socializing there anymore. The extent of my mall shopping trips usually just involve me jetting to Forever 21 (by now, you may already retailer know about my adult addiction to the fast fashion retailer), grabbing what I need and getting out before the young girls in the dressing room next to me make me feel ancient. At this point, I have it down to a science — I can get in and out with bags of pre-fitted pieces in an hour tops.
However, my laser focus on finding the best that my guilty pleasure has to offer has completely deterred me from popping my head into the other gems my local mall houses. As it turns out, the mall isn't just a place to pick up a pretzel. I recently ventured out and stepped into stores that I haven't visited since my junior year in high school. Although I prayed I wouldn't run into anyone, the selection of accessories was quite impressive.
I know what you're thinking and no, shopping at the mall doesn't automatically mean you're doomed to cheap-looking accessories. After all, you can't buy good taste. It all comes down to choosing pieces that have the extra something. Soon, you'll see what I mean. Honestly, the hardest part is dodging people you don't want to run into. For a good starting point, I'm sharing the items I currently have on rotation — and the best part is none of them will cost you more than $20. I work hard for my money, so I wouldn't want to spend it all in one place.
Forever 21
You know I have to start with my favorite mall store. Forever 21 is the perfect place to score affordable purses and trendy shoes.
Crushed Velvet Mules, $17, Forever 21
Look for shoes in luxe-looking materials and timeless silhouettes. When shopping for affordable shoes, stay away from platforms that look like they can be found on an exotic dancer somewhere. This is the easiest way to spot a cheap shoe. These Forever 21 Crushed Velvet Mules in camel are the perfect shape and the poppy color will add a little something to any outfit. And they're nine dollars!!
Faux Leather Crossbody Bag, $18, Forever 21
It's important to keep on top of what's trending on the runways, because Forever 21 is great about following trends. Often times you can find handbags in similar shapes as your favorite expensive designs. These super trendy-looking bags come and go quickly, so why spend an arm and a leg on them? This Faux Leather Crossbody Bag is a perfect example of an affordable and trendy purse.
H&M
Though you can find an H&M in every mall, this affordable retailer is one of the most fashion-forward brands in the industry. Some of the most famous models in the world can be found on their runway at fashion week, so needless to say, this is where fashion girls go when they shop at the mall.
Earrings With Rhinestones, $13, H&M
My favorite trick to picking items that look super expensive (but don't cost a fortune) is to seek out the ones that have a distinctive look. If the item looks special, it instantly screams money. These face-shaped Earrings With Rhinestones could easily be mistaken for a set of vintage Pucci earrings, am I right?
Abercrombie & Fitch
When I shopped at Abercrombie & Fitch in high school their accessory section was a bleak pegboard loaded with leather belts and tote bags. These days, I'm obsessed with the selection of dainty jewelry they offer. Added bonus: The cologne pumping through the vents is like one long walk down memory lane. Just me?
Delicate Necklaces In Gold, $15, Abercrombie
I dare you to tell me this necklace doesn't look expensive. You could literally wear it with a designer gown with a plunging neckline and it wouldn't look out of place. Next time you make your way to the mall, how could you not pick up one of these Delicate Necklaces In Gold?
ALDO
I've always known ALDO to be a shoe store, but their accessory wall is actually the main reason I still shop here. Their bags are dressed in a really decent faux leather and the jewelry has an expensive-feel to it.
Tering Earrings, $15, Aldo Shoes
These gold and multi-colored earrings are a perfect example of why you should give ALDO's jewelry section a look. Pair Tering Earrings these with a white linen dress for summer and you'll look like you could be sitting on some private island in Bali somewhere.
ZARA
Zara is one of the best stores to shop on a budget, because they're always stocked with expensive-looking pieces. Whether you're looking for shoes, bags or jewelry, they're a good place to start. Also, always check the sale section. They always have good pieces (and they're not even damaged) on sale for even better prices!
Earrings With Dangling Flowers, $20, Zara
My favorite items to buy at ZARA are the statement-making costume jewelry pieces. These Earrings With Dangling Flowers will instantly make any outfit look so expensive.