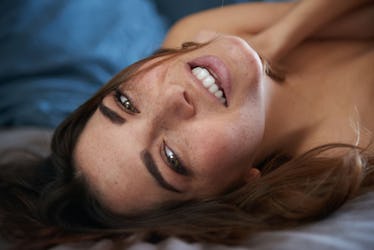 5 Ways To Relax When Your Partner's The One Putting The Moves On You
In a perfect world, getting comfortable enough to actually enjoy being on the receiving end of oral sex shouldn't be so difficult. After all, when performed correctly, it can bring you extreme pleasure. But many people can't help but experience strong self-conscious feelings about their partner going down on them. Oftentimes, women in particular are so preoccupied by these thoughts that they can't fully focus on the experience. Learning how to relax during oral sex takes time and effort, but this common roadblock shouldn't stop you from ever enjoying cunnilingus.
If you find that you're too stuck in your head to actually relax and enjoy someone going down on you, there are a few different solutions you can try. I spoke to two sex therapists about the reasons why you might be unable to relax while someone goes down on you, strategies for feeling more comfortable, and when and how you should discuss your concerns about oral sex with your partner.
Here are five expert-approved ways to feel more relaxed when your partner's the one putting the moves on you, because you deserve to experience every delicious moment.