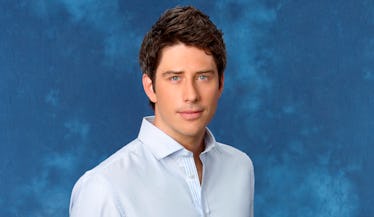 Here's How To Actually Pronounce 'Bachelor' Arie Luyendyk Jr.'s Name
ABC/Craig Sjodin
Have you been mumbling the new Bachelor's last name every time you mention him because you're not exactly sure how to say it properly? Or maybe you have just been avoiding the whole thing all together or simply referring to him as "the kissing bandit from Emily's season," since that's easier than totally botching it. Is it Loo-yen-dik, Loyen-deek, Low-een-dowk? Don't fret. Here's how to pronounce Arie Luyendyk's name, people. The Bachelor Season 22 premiere is only a mere few weeks away, so it's time we all learn it. It's pronounced AR-ee LION-dike. Say it with me aloud and don't you forget it, because this journey is only just getting started.
From the moment Arie was announced as the next Bachelor back in Sept. we were all like, "huh? OK... wait, who is this guy?" But by this time we've had months to warm up to him and gear up for what seems to be quite the dramatic season to come, and remind ourselves of who he was when he competed on Season 8 of The Bachelorette. The now-35-year-old race car driver and real estate broker is ready for his chance at reality TV love yet again, so get ready. And don't you think we owe it to him to at least say his name correctly?
Arie was actually born in the Netherlands and immigrated to the United States at age three. It's no wonder that he got into race car driving — his father, Arie Luyendyk, Sr., was a Formula One racer and two-time Indy 500 winner.
But Arie is hanging up his racing gear for now and focusing on looking for a wife-to-be, although we doubt the allusions to cars will stop when the show kicks off. How much do you want to bet there's some sort of group date that involves the contestants racing or at least stepping foot on a race track?
Arie's season of The Bachelor hasn't even officially begun, but we're already expecting plenty of drama. The extended trailer for the show not only unveils Arie walking through a desert dramatically in his finest menswear, it promises everything from exotic vacations to uninvited exes to contestant fights and tears galore. But it appears there is definitely true romance in store too.
We hear Arie's voice saying, "Along this journey, I went through so much confusion ... My biggest fear was getting to the end and proposing to someone who wasn't ready. But now, I don't know, I just really see it with her and I just hope that she can see it with me too. I'm nervous. I'm scared. I'm going to tell this girl that I love her and hopefully get down on one knee and I just hope that I don't regret it." Dun. Dun. Dun.
Arie recently revealed to ABC News that he actually told more than one woman that he loved them over the course of the show. He admitted,
I didn't know that I had that capacity to love more than one person at a time and I think that's something that some of the bachelors go through and it's difficult. But I'm glad that I left myself open and got to experience that, for sure.
Oh, and making out is pretty much a given. This is the "Kissing Bandit" we're talking about. "As far as kissing throughout the season, I think it's just when that moment sort of feels right, so yeah, I'm a romantic and I do love kissing," Arie said. "I feel like the physical side of a relationship is important, so yeah, there will be some kissing."
We look forward to seeing Arie in action when The Bachelor premieres Jan. 1, 2018 on ABC. We don't know which ladies he kisses more than once or even falls in love with, but at least we know how to pronounce his full name now.