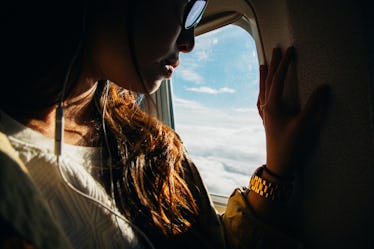 How To Prevent A Cold While Flying So You Don't Get Sick Right Before Spring Break
Spring break is fun, but depending on where you're headed, there could be an unexpected obstacle to tackle: If you have to fly to get to your destination — which might entail several hours of being up in the air, multiple airport stops, and a miserable layover or two — you might just come face-to-face with a bunch of germs ready to ruin your vacay. Of course, the absolute worst case scenario for anyone would be spending money on a trip only to get sick on the way there. Learning how to to prevent a cold while flying is similar to cold and flu prevention in general, with one primary difference: the air circulation.
Because of the high volume of people onboard, who are all touching and using the same facilities and products, airplanes can be a cesspool of bacteria, according to TIME. That's not exactly new information, but to put things in perspective, consider this: Researchers from Auburn University in Alabama found that strains of staph bacteria can survive for days at a time on airplane surfaces. When you think about how many people might fly on the same plane every single day, this is pretty terrifying.
Airplanes may be a total hotbed for germs, but this doesn't have to be a death wish for you and your dream vacation. Just follow these five simple rules for travel cleanliness, and you'll be well on your way to sunshine and relaxation in no time.