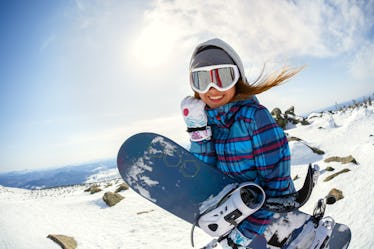 6 Ways To Pack Light In The Winter, Because It's Easier Than You Think
Raise your hand if you have a winter vacation planned. Whether you're hitting the slopes with your friend group for a ski getaway, or headed to The Big Apple for some festive fun, it's time to start packing your bags. You know how stressful packing can be, and packing for a winter trip can be even more difficult. It's easy to throw all of your bikinis, crop tops, and denim shorts into a carry-on bag, but you have to think a bit more strategically when you're packing winter coats, bulky sweaters, scarves, and maybe even snow pants. Here's how to pack light during the winter, because it's totally possible.
You'd be surprised how quickly a few sweaters and a pair of boots can completely fill up a suitcase. Suddenly, you're wondering how you're going to bring all of your outfits without overpacking. Naturally, you want to be prepared for all of your activities, and have several chic options to choose from.
It may take a few tries before you totally nail it. But with these tips, you'll be so relieved once you finally squeeze everything into your suitcase. Before you know it, you'll be boarding a flight to your dream destination.