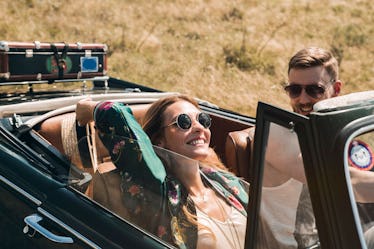 The Dos & Don'ts Of Packing For A Road Trip Without A Lot Of Space In The Car
Road trips are always an epic adventure. I've been on more than I can count on my hands and toes throughout my life, and each one has been memorable for its own reason. I've always loved looking at the open road and seeing nothing but fields and mountains up ahead, and I love that you always have the option to hop out whenever you see something cool along the highway. It can be difficult knowing how to pack for a long road trip without a lot of space in the car, but I have a few dos and don'ts that can help get you by.
I always make sure to minimize my luggage to just a carry-on-sized bag, and I try to skip things like excess toiletries or another pair of shoes to help save on space. But there are a few things — like a small cooler full of snacks and some extra blankets and pillows — I believe are absolute necessities when you're on the road for a while.
So if you, your crew, your family, or your SO are heading on an extended road trip anytime in the near future, make sure you keep these packing tips in mind. But most of all, don't forget to take a ton of pics and have the time of your life. Road trips are always a special kind of travel you should cherish forever.