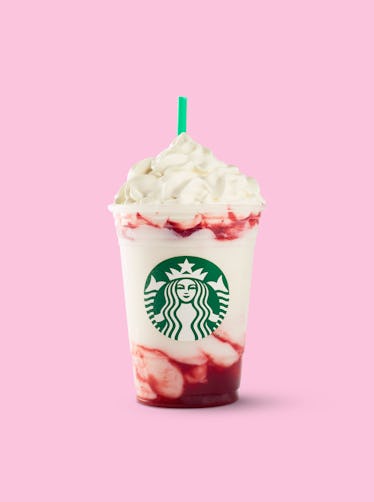 You Can Make Your Own Starbucks' Serious Strawberry Frappuccino For A Sweet Treat
Starbucks
There's a new Starbucks drink on the block just in time for the warmer weather, and it's about to take us by storm. The Serious Strawberry Frappuccino is bound to be a hit whether you're a huge strawberry fan or just want to impress your Instagram followers. But if you really just want to drink it, and preferably without leaving the comfort of your home, here's how to make your own Serious Strawberry Frappuccino. This is extremely vital information, so you're welcome.
Summer is here and that means a new wardrobe, fun in the sun, and the dire need of some cool-down beverages for when you're walking your doggos in the 90-degree weather. In comes Starbucks' Serious Strawberry Frappuccino, which rolls out Tuesday, June 5. You'll become obsessed immediately and want to make it at home. Luckily for you, I did the legwork, and found out that it's actually pretty easy to recreate.
Serious Strawberry is pretty much a glam up of Starbucks' classic Strawberries and Crème frap. So what will you need? Nothing you probably don't already have in the fridge.
According to Starbucks, their new Serious Strawberry Frappuccino starts off with a strawberry fruit puree, followed by their reinvented Strawberries and Crème frap (a blend of ice, milk, and their strawberry infusion blend) and finished with more strawberry puree and vanilla whipped cream on top.
Voilà:
Starbucks doesn't give us exactly what's in their new strawberry infusion blend, but the ingredients for their regular Strawberries and Crème frap say that it's made from blending strawberries and ice with milk. I'm sure that with the addition of the strawberry puree, it will make an excellent at-home version.
It doesn't sound so hard to make, right? Really all you need are strawberries, milk, ice, whipped cream and a blender. Swirling up the Strawberries and Crème portion is as simple as throwing together ice, milk, and strawberries. For the puree part, I make fruit purees at home all the time. Just throw some strawberries in the blender. Pro tip: if you want it a little sweeter, you can just add a sprinkle of sugar or even honey. As far as the vanilla whipped cream, you can just buy that in any store, or add some vanilla bean to regular whipped cream (another tip).
To assemble, just spoon some of the puree into your cup, add in your strawberries and cream mixture, top with some more puree, and finish it off with vanilla whipped cream. There you have it.
Also, when you mix it all up it turns magenta. So, can you say #instaworthy?
Once it hits 90 degrees outside, the chances of me leaving my apartment are pretty slim. If you're anything like me, you know there are going to be those days of summer when you just can't bear to leave the AC, and you'll be happy to have this recipe handy. But, if for some reason you're still not convinced you can replicate the Serious Strawberry Frappuccino at home — or maybe you just don't feel like cleaning the blender from margarita night — then you can just pick one up at Starbucks starting June 5. A Grande ranges from $4.95- $5.45 (depending on where you are), so stop by and try it out. I'm betting that you'll want to try to make it at home in the end anyway.
So have fun trying out this recipe at home or grabbing one at Starbucks. I'll just be here getting started on a making a whole bunch of Serious Strawberry fraps for everyone I know (and by that I mean you will find me here drinking straight out of the blender with a straw). Enjoy!