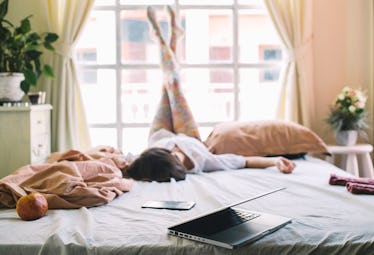 7 Ways To Make Your First Apartment Without Roommates Feel Like Home Sweet Home
When you first ventured out on your own, you probably shared an apartment or house with a few roommates. So, when it's time for you to have your own place and live solo, it's a different ball game. Yeah, you always provided for yourself — even with roommates — but the dynamics of sharing a space were different than being alone. You might be curious about how to make your apartment feel like a home, because you've always had other people contributing to your humble abode.
When you lived with your parents, they were a huge part of what you considered home to be. And when you moved out with roommates, they had a major impact on your idea of home sweet home as well. So, how do you make a new space feel cozy and homey all on your own? It'll take a little decorating and mindset magic — but you are well on your way.
Getting your own apartment can seem like an exciting but also slightly scary experience, because everything is seemingly on you. But look at the bright side — you accomplished something awesome and you get to live in that milestone every day from now on. So, if the lease is signed, you've done your happy dance, and you're ready to move in, make sure you're keeping these tips in mind to get those home sweet home vibes circulating.