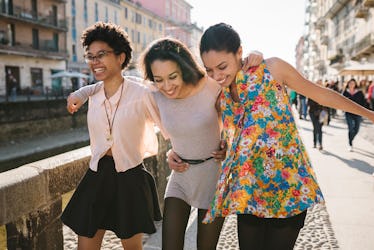 How To Leave Your Next Solo Trip With A New Travel Bestie For Life
When I initially set off on my first solo trip, I wondered how I'd make friends. I've never been the life of the party or that person who can just start a conversation with anyone. Sure, I love my "me" time — but the idea of making friends along the way appealed to me as well. Within a day of traveling alone, I realized that traveling solo was ironically the easiest way to make friends. In fact, I had a hard time getting the alone time I desired, because I was meeting people day in and day out. If you're wondering how to make friends while traveling alone, I've got a few key tips that can get you started.
It seems that you'd be completely alone on a solo trip, but that couldn't be further from the truth. You'll learn very quickly that there are endless opportunities to meet people, and it hardly takes any work. As a whole, travelers are open to new experiences, including making friends. When you place yourself in an environment of like-minded people, connections begin to happen very naturally. From the moment you step off of your flight, to the second you arrive at your hotel, you'll learn that you only have to be alone when you choose to be.