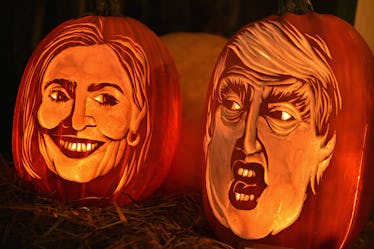 A Donald Trump Jack-O-Lantern Is The Best Way To Use A Pumpkin This Halloween
Theo Wargo/Getty Images Entertainment/Getty Images
Halloween is approaching, and with it, all the wonderful, spooky traditions. Pumpkin picking, hot chocolate, crunchy, crispy walks through the leaves, and of course, pumpkin carving. That special group activity where you can display your artist talents, no matter how limited they may be. And you should be able to use your talents and your time to do anything you want, including learning how to make a Donald Trump jack-o-lantern.
And, hey, Halloween is all about coexisting with ghouls. So it's kind of fitting in a way.
To boot, with the release of those cringey, off-message pumpkin MAGA hats, this Halloween is already Trumpified, I guess. I mean, MAGA folks are already accidentally comparing the spray-tanned Commander-in-Chief to a bloated gourd with a freaking $45 hat, so why can't the rest of us?
If you choose to do this, you will become part of a long-standing tradition that stretches all the way back to 2015. Oh, age of innocence.
Trumpkins, they were called. That's right: Trumpkins. Trump pumpkins. Cheeky wordplay from the halcyon days before November 8, 2016.
And people got into it. Some of them were just straight up art.
I mean, just look at this one. So realistic.
Now, doesn't that look like a fun little treat for your doorstep?
So, this year, you, too, can follow in the grand tradition — no matter your skill level when it comes to carving gourds.
For me, it's hard enough to use one of those cheap, unwieldy carving knives to make a smiley face, but hey, I'm not the craftiest person in the world. So for those who would like to put their art skills to the test, here's how to make your very own (very terrifying) Trump jack-o-lantern.
First things first: carving a pumpkin. How? Why? What?
Laugh all you want at this remedial course, but I have witnessed my fair share of carving injuries. You don't want that. It's a mood killer.
So, a quick refresher: pick a large pumpkin, and use a serated knife to cut off the crown. Make sure it's on a flat surface and you're not cutting toward your steadying hand or your body. Then you scoop that pumpkin's guts out. And you can draw your carving schematic on the pumpkin with permanent marker, or you can go rogue and do it freehand. Use a small knife to carve out the deets.
Or, if you need yet more guidance, check out Martha Stewart's pumpkin carving guide. Oh, Martha.
Making your pumpkin Trump-tastic
For the rare pumpkin artist, you could probably just do this freehand while looking at a photo of Trump.
For the rest of us, there are stencils.
Go ahead and use one of the Free Stencil Gallery's Donald Trump stencils. Or, if you're a fancy person waiting for their Trump tax-cut, shell out a whole $5 for this wood stencil on Etsy.
If you've never stenciled before (amateur), you can either tape or Mod Podge it onto your pumpkin and carve to your heart's delight.
If stencils still aren't good enough for you, and you really, really need to make your jack-o-lantern look realistic (so realistic, the most realistic Trump pumpkin you've ever seen), Serious Eats put together a tutorial on how to make any photograph into a jack-o-lantern image. And while you could make a jack-o-lantern with your adorable dog or Freddy Krueger, why not Trump?
The lazy person's guide to a Trump jack-o-lantern
OR! If you're like me and you're terrified of those scary-sharp cheap-o tools, you could just PAINT a trump-o-lantern.
Take notes from this Rachael Ray — yes, Rachael Ray — segment on making your very own easy Trump jack-o-lantern.
You can either print out a stencil or, if you have a steady hand, just paint on those lines yourself. Slap a cheap wig on, and you're good to go.
You can find a short blonde wig for as cheap as $14.80 online. Trumpian styling will cost you your time and dignity, however.
Pumpkin not your medium? That's cool.
Just use Beano's guide to drawing Trump as a pumpkin and do your best on some orange construction paper.
Just think of the possibilities. If you follow through with your Trumpkin, you could also carve Pumpkin Melania, Pumpkin Ivanka, and Pumpkin Putin. Have yourself a regular old haunted (White) house.