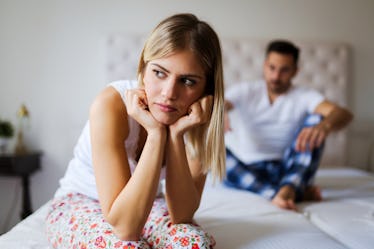 Here's How Experts Say You'll Know Your Partner Is Being Unfaithful
If you've ever suspected that your partner might be cheating on you, you know how miserable that feeling of paranoia can be. At first, it's a creeping dread. Your gut tells you something's off, and although you try and deny it, the fear lingers. Then there's the sinking feeling in your stomach as the suspicious behavior continues to add up. The question is, if you're suspicious, what can you do about it? You'll have to face the problem eventually, but first, it's helpful to learn about how to know your partner is being unfaithful, so that you don't falsely accuse them of something they aren't doing. It's also helpful to know when you should be worried, and when you really don't have to be.
According to several relationship experts, there may be some pretty clear signs that indicate your partner might be cheating, or is headed in that direction. These are common patterns of behavior that might mean they could be keeping a secret, or starting to emotionally disconnect from the relationship. While these signs may be hard to face, try to remember that it might be better to be clued in on them, so that you can take back some control of the situation and decide how you want to move forward. Do you want to confront your partner, and try and work it out? Or call it quits before it goes on too long? Whatever path you decide to take, the first step is to confirm what you suspect by knowing what signs to look out for. Here's what the experts say you should keep an eye on.