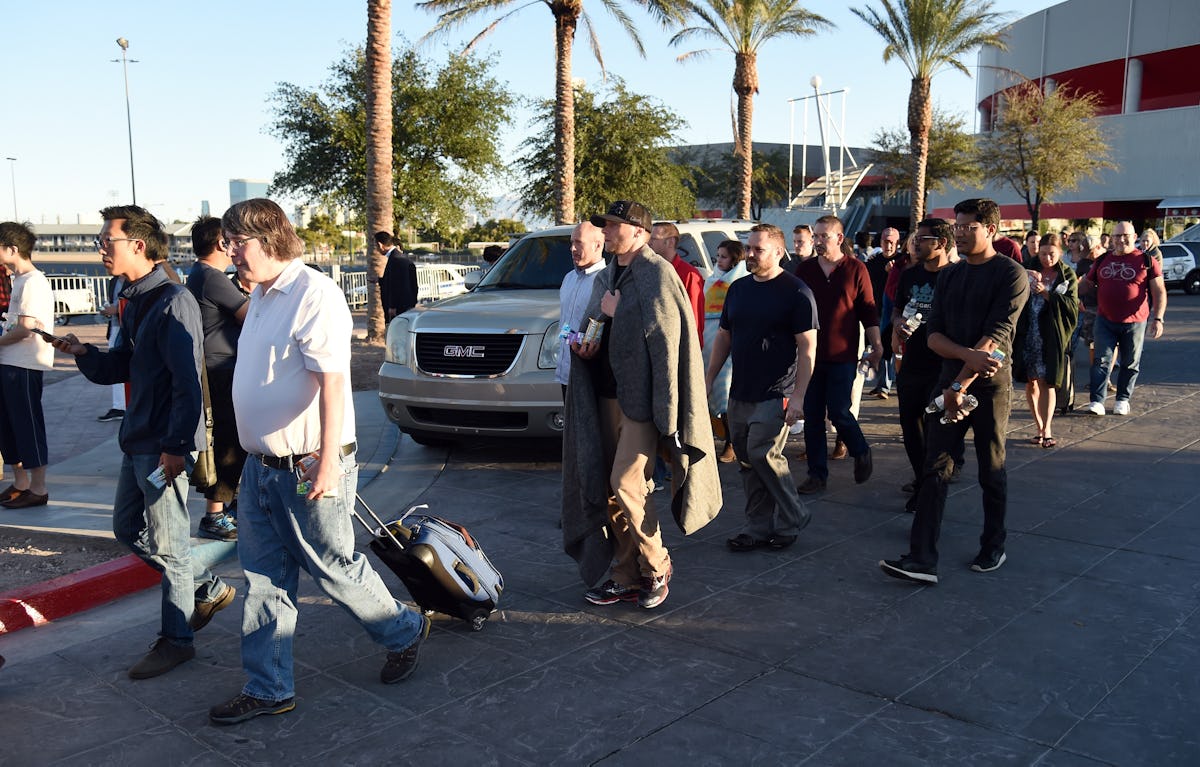 5 Ways To Help People Devastated By The California Wildfires
Ethan Miller/Getty Images News/Getty Images
Wildfires have been ravaging Southern California this week, destroying property and forcing residents to evacuate their homes. Pictures and videos of the largest fire, dubbed the Thomas Fire, are heartbreaking and so, so terrifying. Here's how to help California fire victims as soon as possible.
On Dec. 4, the Thomas Fire began ripping through Ventura County, destroying more than 65,000 acres of land and prompting a mass exodus of 27,000 residents, according to The Washington Post. Crews of more than 1,000 firefighters arrived on the scene, but due to the intensity of the fire, they haven't been able to actually enter the areas that are currently up in flames. California Gov. Jerry Brown tweeted on Dec. 5 that California is currently under a state of emergency, writing,
The fire is very dangerous and spreading rapidly, but we'll continue to attack it with all we've got. It's critical residents stay ready and evacuate immediately if told to do so.
Los Angeles Mayor Eric Garcetti seconded that sentiment, urging residents to evacuate as soon as possible. "We want to be really clear, folks," he said in a statement. "We have lost structures; we have not lost lives. Do not wait. Leave your homes."
The one small silver lining is that we can actually help those affected.
Donate Food And Water
For starters, you can donate these two essentials to evacuees through The Salvation Army Ventura Corps. The organization has set up shop in Ventura County, and if you'd prefer to donate directly to its cause, you can head over to its website here.
Clothing Donations
You can donate gently used clothing to evacuees through the Catholic Charities website, or drop items off in person at Catholic Charities' Ventura Community Services Center, located at 303 N. Ventura Ave. in Ventura.
Animal Supply Donations
If you want to help out animals that escaped the fire and are currently homeless, the Humane Society of Ventura County is looking for donations. Make a cash donation on the society's website, or drop off donations at 402 Bryant St. in Ojai. Kennel manager Angela Hanline told Patch,
We are in desperate need of food and supplies for the larger animals. Alfalfa hay, timothy hay, and water troughs for our horses, goats, donkeys, and alpacas is a top priority. We are also in need of small water and food dishes for our cats and crated animals, heavy duty hoses of all sizes, chicken feed, and cat food.
You can help even more furry friends by donating to the Los Angeles County Animal Care Foundation, which provides necessary equipment to first responders who are rescuing animals from natural disasters. Donate through its website, or mail donations to P.O. Box 100515, Pasadena, CA 91189-0515.
Donate Directly To Evacuees
You can also donate directly to people who have lost their homes by heading over to The United Way of Ventura County's website. The relief fund will help out an estimated 600 evacuees who are currently being housed in shelters right now.
You also have the option of texting 805-485-6288 to make a donation or sending a check marked "Thomas Fire Fund" to 702 County Square Drive, Suite 100 Ventura, CA 93003.
Volunteer
If you're in the area, and can physically help out, the Red Cross needs you. Fill out a volunteer application here, or donate directly to the organization by dialing 1-800-RED-CROSS. Donations can also be made at redcrossla.org.
"Our Red Cross volunteers have been working through the night to provide relief and comfort to hundreds of residents impacted by this fast-moving fire," Red Cross Executive Director Kimberly Coley said in a statement on Facebook. "We will continue to provide assistance for as long as there is a need."
If you're able to give, every bit really helps. Sending all our thoughts and best wishes to everyone affected by this awful disaster.