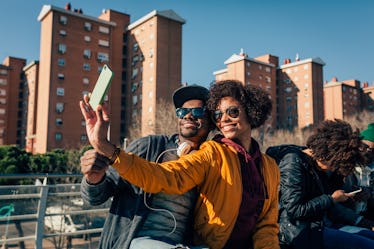 7 Genius Ways To Deal With The Bestie Who's With Her SO 24/7
When your BFF is happy and all bundled up with their boo, you wish them nothing but the best. Although, you can't ignore the fact that she's with them 24/7 now and you can hardly get in any time with her. You're not trying to block her chance for romance or anything, but you don't want to feel like you've lost your friend, either. It's tough dealing with the friend who's always with her boyfriend or girlfriend, but it's not impossible.
It takes a little bit of a tactical approach, because you really don't want to seem like you are whining or sabotaging anything. You just want some time with your girl, and if this means getting a little stealthy, then so be it. We've all been there — that whole body feeling where being around someone romantically is all you want to do.
You don't want to strip anyone of that, but attaining time with your BFF is also at the top of your agenda. It's all about strategy, and you'll have to really utilize it to get her away for a bit from the enticing girl or guy in her life right now. Don't worry, you aren't breaking anyone up, you're only using a couple of genius ways to make it so you can spend time with her again.