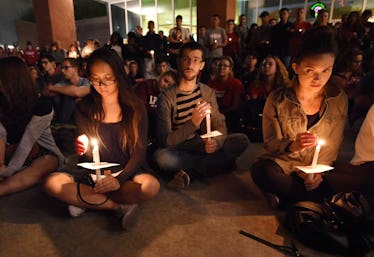 5 Ways To Handle Grief In The Aftermath Of A Tragedy, According To Experts
ROBYN BECK/AFP/Getty Images
Despite our efforts and hope for universal peace, the world we live in today is still so imperfect and, unfortunately, we are not unfamiliar with natural and senseless disaster. Hardships happen in life, and though the aftermath is certainly a period of immense hurt and mourning, learning how to handle grief after a tragedy is absolutely crucial. Whether you're a victim, a loved one of a victim, or a bystander of these types of emotionally exhausting events, you deserve the proper amount of time and space to heal in a way that caters to your individual needs.
During the Route 91 Harvest Festival at the Mandalay Bay Hotel and Casino in Las Vegas, Nevada on Oct. 1, a shooter opened fire from his hotel room, killing at least 59 innocent people and injuring over 500 more. In the wake of this tragedy, which came on the heels of Hurricane Maria's devastation in Puerto Rico, victims and witnesses to these events are left mourning and grieving. In a perfect world, there would be one answer, one solution to put an end to it all. But tragedy affects everyone differently, which means, of course, that there's a variety of ways to nurse the sting. While some people prefer to process times of hardship internally, others jump into creative projects to let out steam. Others choose to process their grief by supporting victims through monetary donations, or seeking reassurance from qualified professionals.
According to the experts, there really is no right or wrong way to grieve. But if you need a bit of guidance on finding a way that feels right for you, here are five ways to cope with grief in the aftermath of a tragedy.