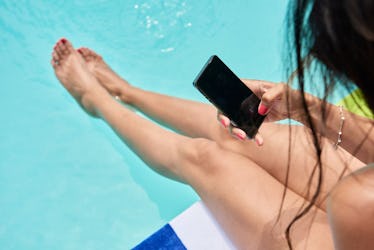 7 Texting Hacks That Will Get A Faster Response From Your Date Or Partner
It goes without saying that texting has a pervasive presence in modern-day romance — whether you're wooing a crush, getting to know a dating app match, or simply checking in with your SO, you're probably whipping out your phone pretty often. So it's likely that at some point, you've been left staring at a conversation (or worse, a read receipt), anxiously awaiting a response, and wondered how to get texts faster. Are there certain strategies that are more likely to elicit a response than others?
Recent research suggests that it's certainly worth paying attention to your texting habits, regardless of your romantic situation. One 2018 study published in Computers in Human Behavior revealed that people who initiate texts to their partners feel more satisfied with their relationship. Texting can also be beneficial for single people, as it provides an easy avenue for flirting, getting to know someone better, and figuring out if someone is actually interested.
In an ideal world, your date or partner would promptly respond to every message you send — but unfortunately, that's not always the case. Luckily, I talked to two dating coaches who offered some foolproof tips for getting more rapid replies.